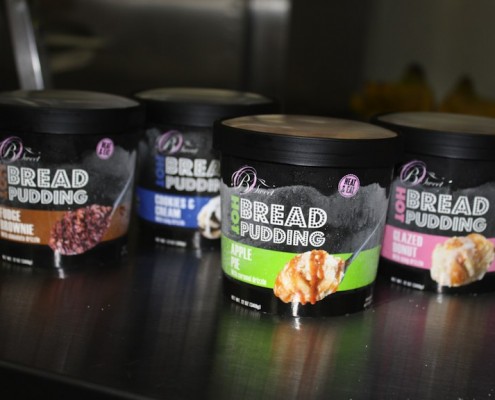 Frozen bread pudding may not sound appealing to foodie purists, but to many people it sounds like manna from heaven. And frankly, it's pretty darn good, especially Chef Barb's B Sweet's new product line. That explains why it has just been picked up for retail in more than 250 Super Target stores nationwide.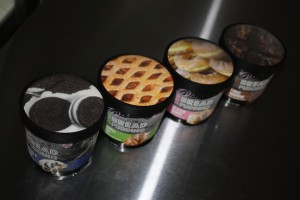 The bread pudding comes in the same size containers as ice cream, and the flavors range from Fudge Brownie and Apple Pie to Cookies & Cream and Glazed Donut. In the TasteTV office, the Apple Pie was a big hit, and there was much discussion about how after we had heated it in the microwave, we should have gone ahead and added a big lump of ice cream on top.
The only drawback is that it really is best served hot, so if you don't plan on consuming what you have on your plate right away, then save some for later (or give it to the drooling friend staring at your plate).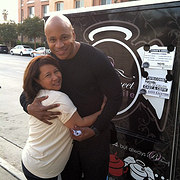 If you don't know who Chef Barb is, here is a quick summary:
Barb Batiste founded Chef Barb's B Sweet© in 2010 as a way to bring back the homemade taste in food and desserts we all love. From her kitchen at home, to now her third commercial kitchen, she continues to remain true to her "handmade like grandma used to make" ways. Barb and her committed team strive to create new recipes with an old-fashioned twist every day.
Chef Barb's B Sweet© was named Best Dessert of CitySearch Los Angeles, has been a featured chef at the prestigious L.A. Food and Wine event for the past three years and was a featured chef at the Los Angeles Times' The Taste.
Beyond desserts, Chef Barb's B Sweet© is a full-service catering company with clients that include Disney, Nike, Apple, E! Television, Sony, the cast and crew of Modern Family and NCIS and more. Chef Barb's creations have been seen on TV shows like The Bachelorette, local and national news and prominent talk shows. Chef Barb's B Sweet© also has a fleet of mobile food trucks that cater daily to the local Southern California community. B Sweet™ is growing quickly, and the proof, as they say, "is in the pudding"! 

More good news:
Chef Barb not only has her fleet of food trucks out in force, but has also just opened up their first brick and mortar store this past weekend in Los Angeles.

http://www.tastetv.com/theme2/wp-content/uploads/2014/08/Bread-Pudding-Stack.jpg
576
864
TasteTV
http://www.tastetv.com/theme2/wp-content/uploads/2014/06/enfold-logo-test2.jpg
TasteTV
2014-08-13 15:00:50
2014-08-13 15:00:50
Chef Barb's B Sweet rolls out Bread Pudding product line