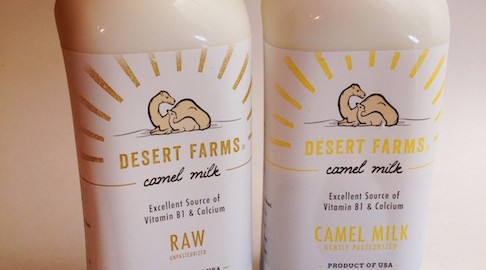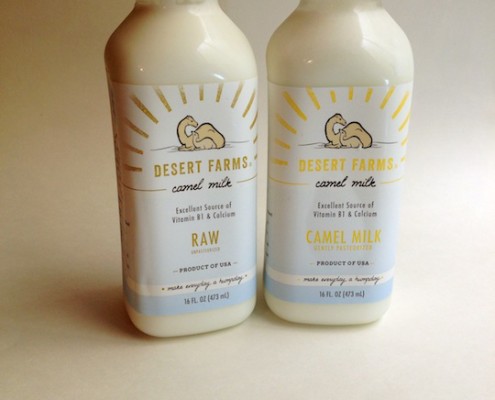 We know that camels have long been useful animals in many parts of the world such as the Middle East, northern African, and Mongolia (we think). Those who live with them ride their backs, use their strength to carry packages, and drink their milk. But camel milk up to now could only be found in the United States in camel mild chocolate, or in some instances imported. Too bad, because the United Nations hailed the nutritional value of camel milk in 2006 and predicted higher consumption once it became easier for consumers to buy.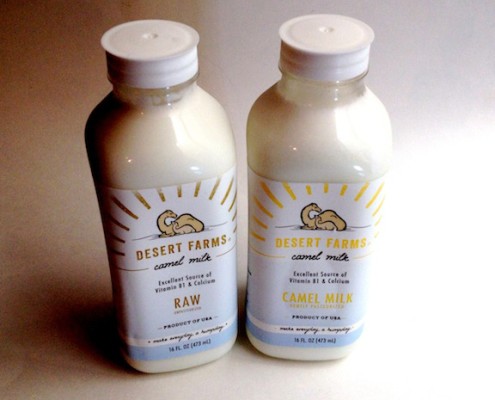 Desert Farms is now announcing that this has changed with the releas and distribution of their U.S.-created camel milk. The milk will be available in a number of outlets, including over 40 Whole Foods in California, as well as direct via the company's www.desertfarms.com.
Desert Farms' camel milk is bottled and labeled  on small Amish/Mennonite family farms where the average herd is about 6 camels. This is done within hours of milking in small batches to prevent exposure to contamination and to ensure maximum possible freshness.
Desert Farms camel milk is free of GMOs, additives, preservatives and hormones – and tastes slightly sweeter than processed cow's milk. Containing only milk from U.S.-based camels and bottled entirely in America, Desert Farms Camel Milk is available in several varieties: Raw Camel Milk; Raw Camel Milk (Frozen); Raw Camel Milk Kefir; Pasteurized Camel Milk; Raw Camel Milk Colostrum (1st); and Raw Camel Milk Colostrum (Regular).
http://www.tastetv.com/theme2/wp-content/uploads/2014/10/camelmilk-IMG_7328.jpg
648
486
TasteTV
http://www.tastetv.com/theme2/wp-content/uploads/2014/06/enfold-logo-test2.jpg
TasteTV
2014-10-24 22:05:02
2014-10-24 22:05:02
American Camels produce first retail Camel Milk brand by Desert Farms