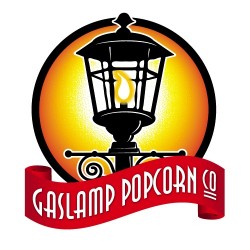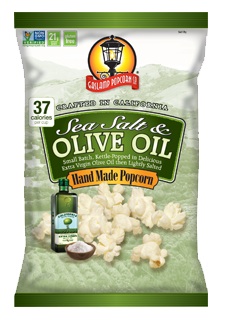 San Diego's Gaslamp Popcorn continues to release new flavors for their gourmet kernels, including Sea Salt and Olive Oil, Apple Crumble Pie, and Pumpkin Spice Pie. This adds to their lineup of favorites such as  Kettle Corn, White Cheddar Popcorn and Cinnamon Caramel Corn.
To find out more about their plans and latest news, including tips for aspiring food entrepreneurs, we chat with Mark Singleton, VP of Sales and Marketing at Gaslamp Popcorn.
TasteTV: The latest news is your new distribution. Why did you decide to expand into these retail outlets?
MARK: Gaslamp Popcorn announced the expansion of distribution into California Safeway and Vons retailers beginning August 2014. Through this expansion we aim to offer more convenient locations to meet the needs of a growing number of consumers demanding healthy snack alternatives.
TasteTV: Is this only in Southern California?
MARK: Our recent expansion into Safeway and Vons spreads throughout the entirety of California.
TasteTV: What flavors are selling really well right now?
MARK: For the last several years we've seen a real surge in popcorn sales driven by sweet and salty kettle corn. We see that trend continuing due to the simple ingredient statement of sweet and salty popcorn, as well as its lighter taste. Unique flavor profiles such as White Cheddar and Cinnamon Carmel, which are locally made in California, have really appealed to consumers. We look forward to having another great year in that category and expanding our lineup of flavors.
TasteTV: How did you develop these flavor profiles?
MARK: We did some re-polarization to make the ingredient decks even more all-natural and relevant to the target consumer. Our all-natural flavors contain certified non-GMO popcorn. We've worked hard to keep these labels simple, and yet, make them taste unbelievably good. In the final analysis, remember, this is a snack food, and it needs to taste great! For traditional popcorn enthusiasts, we have an authentic Kettle Corn, sweetened only by pure cane sugar and a pinch of sea salt. For those who prefer a sweeter twist, our Cinnamon Caramel is made in small batches using a hint of brown sugar. For those who prefer a pop of cheese flavor, our White Cheddar flavor is how we turn popcorn fans into fanatics.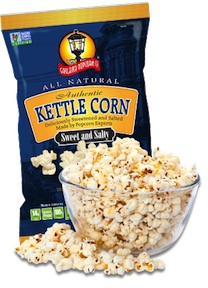 TasteTV: How long has the company been around?
MARK: Gaslamp Popcorn, established in 1998, quickly became a premier popcorn snack option for American snackers. It was acquired by Rudolph foods in December 2011. The Gaslamp District of San Diego was named in the 1860's as a reference to the gas lamps that were common in San Diego in the late 19th and early 20th Centuries. Gaslamp Popcorn is a nod to the honest, warm feel of a simpler time with true flavor and honest manufacturing.
TasteTV: Are you expanding into other products?
MARK: No, however we have developed unique holiday flavor options that will be hitting California store shelves this fall, including Apple Crumble Pie, Holiday Cookie, and Pumpkin Spice Pie.
TasteTV: Are you concerned that gourmet popcorn might go the way of cupcakes (ie. too many companies)?
MARK: We understand the mass amount of competition in the popcorn category, however we know that consumers continue to look for great tasting flavors as well as companies that support local ingredients, develop interesting flavor profiles and deliver a consistent quality product. As we continue to fulfill consumer needs across California, we know Gaslamp Popcorn will be a top choice.
TasteTV: What advice do you give to aspiring food entrepreneurs?
MARK: We continue to be very innovative in the things that we offer. You're seeing some great items, once again, like the sweet and salty popcorn. It's a great item that hundreds of years old that has been brought back to a new group of consumers. It started out in county fairs and now this great group of entrepreneurs has made it a huge part of the category. You look at the guys that came out with pretzel thins, pita chips. It's just a wonderfully dynamic industry that will continue to have a real place in every consumer's daily eating habits. I think I say this all the time; the neatest thing about what we do is that we're in the dollar and nine category. For a couple of bucks we can really make someone's day. To really give an uplift to their day.  And there's hundred of thousands, if not possibly millions of Americans that work really hard to make great tasting snack food out there. That is what gets me up every day,
TasteTV: What is your favorite pairing with this popcorn?
Historically, popcorn has been shared. Gaslamp Popcorn is a perfect on the go snack; great for sharing with family and friends at a party, sporting event or just watching a movie at home!
http://www.tastetv.com/theme2/wp-content/uploads/2014/10/GaslampPopcornLogo-HighRes-e1412817677624.jpg
250
250
TasteTV
http://www.tastetv.com/theme2/wp-content/uploads/2014/06/enfold-logo-test2.jpg
TasteTV
2014-10-08 18:43:09
2017-02-09 21:27:04
Gaslamp Popcorn talks new Flavors, Expansion, and the State of Gourmet Snack Food