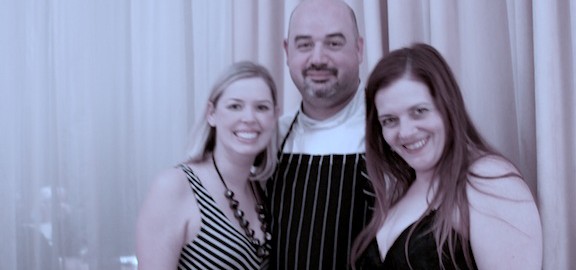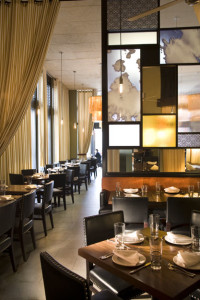 Recently TasteTV had the pleasure of hosting a special Dark Dining event (www.SFDark.com) at Joya Restaurant and Lounge in Palo Alto, California, home of Stanford University and a multitude of tech startups.
The Dark Dining event was at the Chef's Table of Executive Chef Fabrice Roux, of Joya. Fabrice is a very talented chef who has worked for years in San Francisco, France, Las Vegas, and other locales. Joya under his cooking has become the culinary hot spot of Palo Alto.
Fabrice prepared four courses for the dinner party, however he went even further by making each course actually 3-4 different items. As the diners were not able to see their food, this allowed him to challenge their tasting abilities in guessing the ingredients, textures, and finally, the dish. It was a delightful opportunity for the diners to talk with directly, as well as with each other… without being able to see a thing.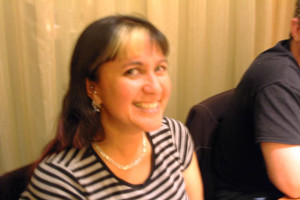 Wines served as pairing were Charles Krug Chardonnay, 2012 Sokol Blosser Willamette Valley Pinot Gris, Victor Vineyards Lawson Ranch Chardonnay, and for dessert the Chocolate Shop Sparkling Wine ("red wine with chocolate notes and festive bubbles").
CHEF FABRICE ROUX'S DARK DINING MENU:
First Course ("Amuse Bouche")
brentwood sweet yellow corn soup shooter parmesan cheese organic popcorn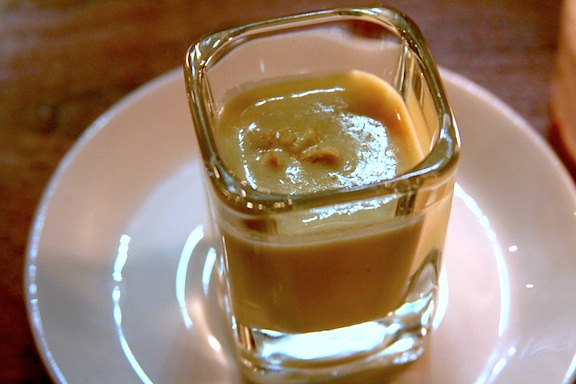 Second Course
bay scallop aguachile ceviche/ chorizo corn dog cheese mustard sauce/  caramelized apple and morcilla
Third/Main Course
pan seared walu served with roasted spaghetti squash / mary 's rocky junior chicken breast served with chow mein jerk  sauce/ roasted pork filet mignon with spaghetti cuban sauce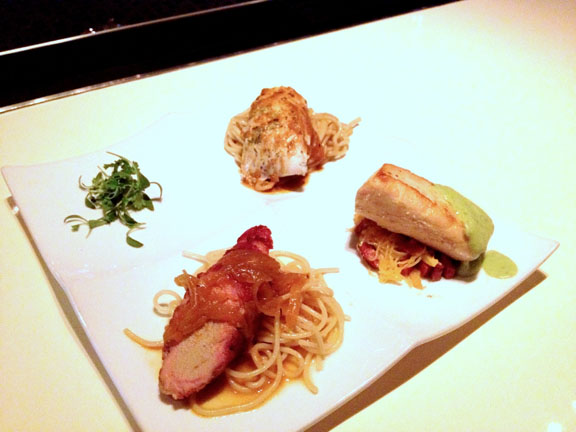 Fourth/Dessert Course
Deep fried arroz con leche with dulce de leche caramel /  chia mango parfait with cilantro /  molted chocolate cake with black berry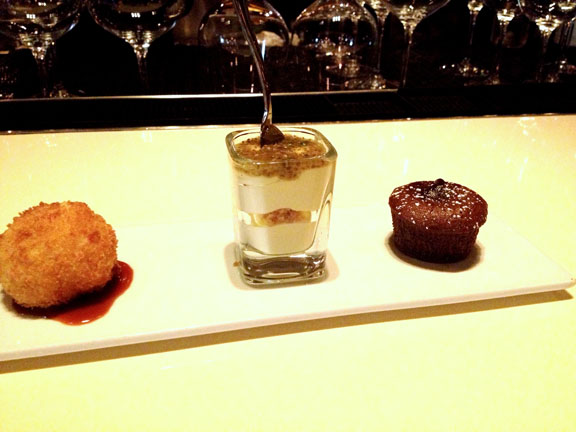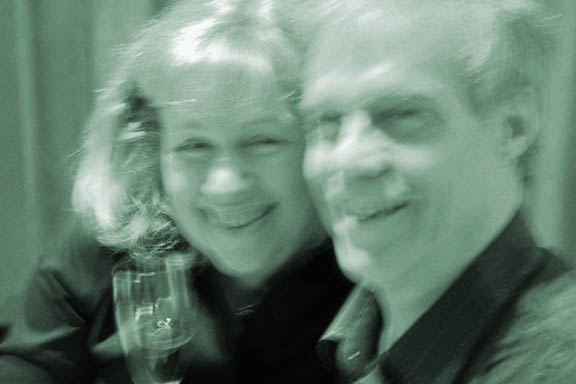 http://www.tastetv.com/theme2/wp-content/uploads/2014/11/joya-darkdining-IMG_8549.jpg
384
576
TasteTV
http://www.tastetv.com/theme2/wp-content/uploads/2014/06/enfold-logo-test2.jpg
TasteTV
2014-11-06 18:00:49
2014-11-07 17:39:32
DARK DINING at Joya's Chefs Table