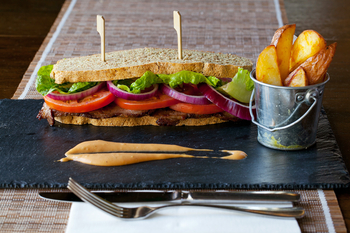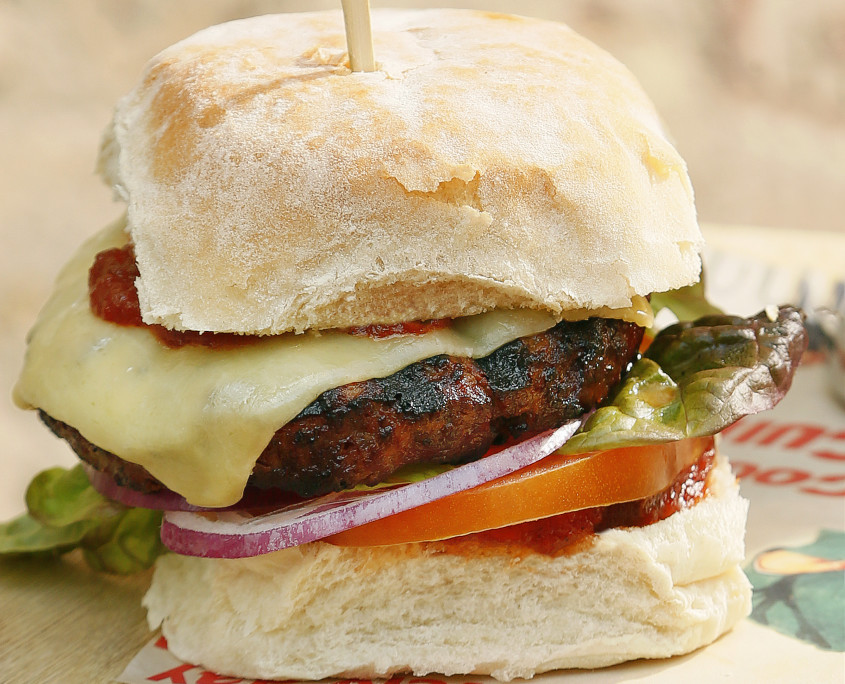 Oh yes, that is a great looking burger!
Guess where it comes from? Guinness Storehouse, Ireland's no. 1 tourist attraction. That's right — Ireland — and you can have one just like it with these great recipes for the summer and special occasions.
Guinness® Beef Burger with Guinness®
Beef Burger Ingredients:
2 lb mince beef
50 ml Guinness® Foreign Extra Stout
1 oz bread crumbs
Splash of Tabasco sauce
Sprig of fresh thyme chopped
Splash Worcestershire sauce
Salt and pepper
Method
In a bowl mix all ingredients together until all mixed through. Do not over mix.
Mold into desired size. Grill on both sides.
Haven't had enough? Try this one: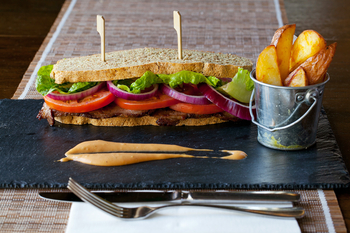 BOOKMAKER SANDWICH WITH GUINNESS® ONION MARMALADE
Ingredients
2 x 100g trimmed beef sirloin steaks
2 large slices of buttered sliced soda bread
½ beef tomato sliced
¼ red onion cut into rings
5 leaves of baby gem
Optional
Sauce Choron (Hollandaise with tomato puree)
METHOD
Quickly fry the sirloin steaks on each side and season.
Assemble by placing on warm toasted soda bread, place tomato on, followed by red onion and baby gem.
Place some of the onion marmalade on the other soda bread slice and top off the sandwich.
Serve with GUINNESS® onion marmalade and potato wedges.
GUINNESS® ONION MARMALADE
Ingredients
1 kg sliced red onions
2 cloves of garlic crushed
2 tbsp olive oil
100g castor sugar
1 teasp fresh thyme chopped
1 bt of GUINNESS® beer
250 ml red wine vinegar
pinch of chilli flakes
salt & pepper
METHOD
In a saucepan sweat of the garlic, onion, chilli flakes and thyme slowly, add the sugar, vinegar and GUINNESS® beer. Slow cook for 1 ½ hours.
http://www.tastetv.com/theme2/wp-content/uploads/2015/06/Guinness-Recipes-Bookmaker-sandwich-with-Guinness-onion-marmalade.jpg
233
350
TasteTV
http://www.tastetv.com/theme2/wp-content/uploads/2014/06/enfold-logo-test2.jpg
TasteTV
2015-06-15 16:18:09
2015-06-15 21:19:28
Want a Guinness Beef Burger, Here is the recipe