We tried Restaurant Meal Startup Din and what we got was Pretty Tasty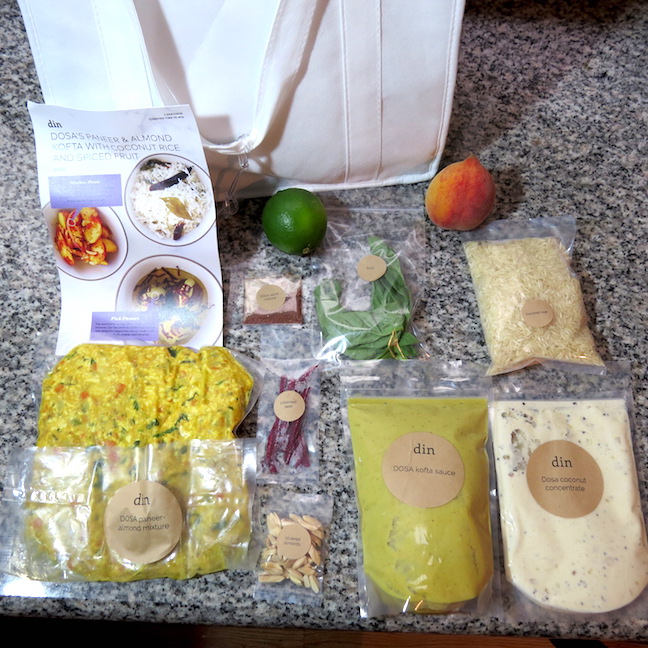 In the world of startups there are a number that are related to food. And the venture capitalists seem to be thrilled with ones that do delivery. That's why we've been keeping close track of many of these app-based food delivery services available nationwide.
Din is one that has set up shop in the San Francisco Bay area and is expanding. It was originally launched by the couple that founded the popular service known as Foodzie.
One of the unique aspects of this food delivery service however is that the restaurants not only prepare the meal in advance, but they specifically give you the pre-prepared ingredients so that you can finalize the recipe at home.
Their description of the service is "Recreate Restaurant Dishes at Home in Under 20 Minutes."
This means that instead of getting a meal on a Friday and having to eat it that night or the next night, you may have up to four days in which to put it together.
The meal that we tried was the south Indian restaurant DOSA's Paneer & Almond Kofta with Coconut Rice & Spiced Fruit.
Their description of the dish goes like this: "This recipe is an excellent example of the creativity applied in Indian cuisine to vegetarian entrées. The word kofta usually means meat, but a mixture of paneer, a yogurt-based firm cheese, and almonds creates a meatless ball that is none the less satisfying than its meatier counterparts."
The first thing that we noticed was the white bag that the ingredients were delivered in. It was a cloth fabric, a very nice size, and somewhat insulated in order to keep the food cool. It also had a block of dry ice in the bottom to guarantee the temperature. We weren't sure if we were supposed to keep the bag or return it, but we kept it.
The agreements were sorted into nicely divided sachets that were already in the right proportions and were labeled for easy reading. The instructions were very easy to follow. And overall it seemed like there were only four or five steps to put the entire thing together. But there was just enough actual cooking that needed to be done to satisfy the home cook's need to have a hand in preparing the dish.
Interestingly, this dish says that you're supposed to make six balls out of the Kofta mix, but we found you could make quite a few more if you just made them smaller.
We ordered two of this item, which actually served four people. The taste was very good, and we are assuming it was exactly like you would get in the restaurant. Everyone went back for seconds.
One thing though we have to admit is that we did not do the garnishes. These would've included the fresh fruit that came with the ingredients, as well as some of the hot spices. Since everyone was quite hungry we just skipped over it and said that this was a feature that was great at the restaurant but right now we just didn't have time to use it.
So what do we say about Din? It is an excellent concept with a high-quality follow through. We would definitely use the service again for different restaurants, and would like to see how it ends up scaling over time to reach new clients and new cities. The competition is tough, but they have a great start.