The Kyocera 12.5 Nonstick Pan-Wok is Stylish and Versatile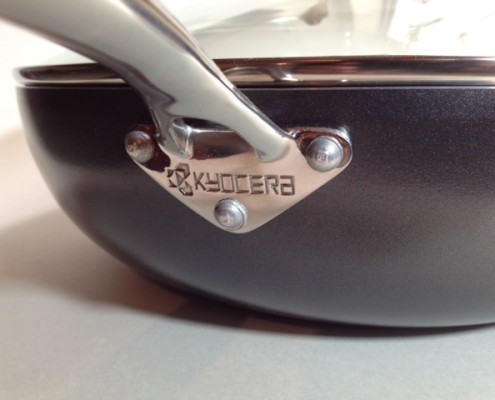 We have recently discovered a new all-purpose pan for the TasteTV kitchens. The 12.5 inch Kyocera wok is actually a deep-dish pan useful for frying, sautéing, braising, and of course, using as a wok. In fact, calling it a "wok" at all is probably limiting its range of uses a bit too much.
The pan comes with a transparent tempered-glass lid, that has a hole in it which allows steam-release and other venting directly from the top. The overall design lines are modern and sleek, reminiscent of expensive appliances created for use and display in upscale homes and restaurant kitchens.
Aside from the wok's very comfortable handle grip and "jet-set" appearance, our favorite part is the pan's bottom, where the actual heat is evenly dispersed according to a high-tech pattern for thermal conductivity.
The non-stick ceramic surface includes the mandatory lack of harmful chemicals (PTFE-free, PFOA-free, Cadmium-free), which gives users another reason to throw away any old Teflon pots and pans. It is also scratch resistant and very easy to clean.
We can see this becoming one of our go-to pans when cooking a range of items, since it's large enough to do straight sautéing without sauce, but deep enough to do anything else that requires liquids or height.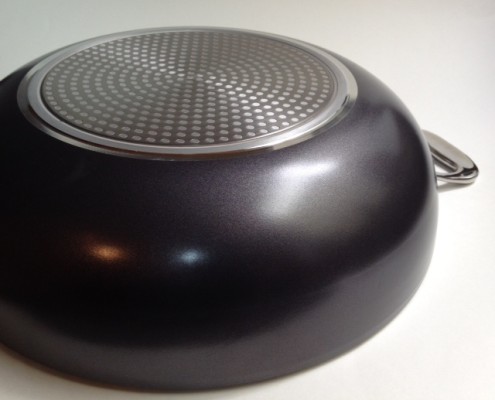 Their instructions for care are fairly simple:
• Lightly coat the inside surface of the ceramic WOK with oil before you start cooking
• Do this each time you cook with the WOK, unless the food is high in fat content, which will coat the WOK itself
• Cook with low or medium heat in your ceramic WOK pan. Ceramic cookware heats evenly and retains heat well, so medium or low heat is all that's needed. Using high heat causes foods to stick to the pan, which can discolor or damage the surface
• Store the ceramic WOK separately from other cookware, especially other ceramic
• Do not stack other cookware in your ceramic WOK
• Rinse the WOK in warm water promptly after cooking to remove excess food and grease. Avoid letting it sit on the hot stovetop, which can damage the pan
The Kyocera Nonstick Wok with Lid currently retails for around $119.96. See more here