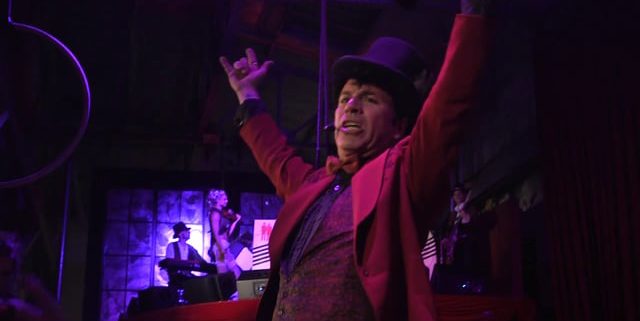 Vau de Vire Society presents their Circus Infused Dinner Theater, "The Soiled Dove", Under the Tortona Big Top in Point Alameda. The popup event is a circus-infused dinner theatre set in a reincarnation of Barbary Coast's red light district.
From the co-creators of the world renowned Edwardian Ball, Phantasm Halloween, Lagunitas Beer Circus, New Bohemia NYE and a decade of San Francisco's most creatively outrageous nightlife events, comes an immersive, circus-infused, dinner-theater experience that will titillate your every sense. After the first and second runs of sold out shows in 2014 and 2015, The Soiled Dove returns to a new location on the shore of the bay at The Point Alameda..in a massive 12,000 sq. ft circus tent recently acquired from the countryside of Tortona, Italy.
Set amidst a thematic backdrop inspired by San Francisco's notorious Barbary Coast era, guests can expect an engaging evening filled with danger, decadence, amazing culinary creations and world-renowned performances. Live musical accompaniment and arrangements will be provided by the famed Jazz Mafia / Realistic Orchestra with surprise musical-guest cameos each evening.
Director/producer of The Soiled Dove, Mike Gaines says, "we'll have over 40 performers and musicians collaborating to help transport guests back to the heart of San Francisco circa 1890. This will be the inaugural reveal of our grand circus tent built on the waters' edge at The Point Alameda. This new 50 ft tall, 125' ft. round monster of a tent allows us to fit an entire township within it's walls, complete with a gaming midway, lounge, 2 bars and a variety of craft vending from local artisans"
Gaines explains how he and wife Shannon (vdv choreographer) found the Tortona Big Top, "After literally scouring the world high and low for exactly the right fit, serendipity led us to the Italian countryside where we discovered the beautiful and magical Tortona – a 12,000 square foot circus tent with ultimate charm and pizazz. Inside we are creating an intimate and exciting depiction of a happening saloon set back in San Francisco's Barbary Coast era tricked out with multiple stages, a tall ceiling for aerial acts, balconies for the dancers, sitting areas and a bar perfectly designed for illicit escapades and debauchery."
The Soiled Dove VIP guests are treated like royalty by the most enticing courtesans on the Barbary Coast while delighting the pallets with an innovative culinary 4-course dinner by San Francisco based Work of Art.
The Soiled Dove promises an evening of world-renowned performance accompanied by a live Orchestra of epic delights. You will indulge in a world of decadence perfectly suited for those in search of an adventurous escapade into San Francisco's scandalous history. Guests are encouraged to submerge themselves in the revelry by putting a little (or a lot) of effort into their attire…styles that cover Victorian, Edwardian, 49er, Harlots, Crimps or one's most stylish period couture.
Filmmaker, radio host, comedian Jamie DeWolf reflects on experience at The Soiled Dove, "This has to be one of the best events I've seen all year, stunning, sexy, scandalous, rowdy and randy, everyone was losing their damn minds at the utter awesome of this show. I want to move into this world and never leave again. The Vau de Vire Society have absolutely out done themselves, what an epic, immersive experience."
This summer's run of The Soiled Dove will be located at The Point, a new mixed-use development in Alameda, CA. With breathtaking views of San Francisco and Alameda's waterfront the location alone is sure to delight. Alameda Point Partners is excited to welcome The Soiled Dove as a continuation of Phase Zero, a series of early activation programs designed to entice new audiences to the area in advance of the project opening.
About Work of Art: San Francisco-based green catering company Work of Art will shape an integrated, experiential culinary event. Joining visionary forces with Vau de Vire society, WoA will create an immersive adventure that encourages guests to participate in the 4-course dinner-theatre performance from the Barbary Coast era. The Soiled Dove VIP guests will experience the chaos of the times with creative delectable dishes festively presented by charismatic food hawkers. Vegetarian options are available upon request.
About Jazz Mafia / Realistic Orchestra: Providing the musical accompaniment for the ensemble pieces throughout the night are Bay Area veterans Jazz Mafia, made up of members from Realistic Orchestra and The Shotgun Wedding Quintet. Led by musical director Adam Theis, dance/musical liaison Shaina Evoniuk, and lyricist Dublin, Jazz Mafia provides the musical means for audiences to travel back in time to when the streets of San Francisco were covered in dirt, mud and sometimes, a bit of blood.
About the Presenter: Founded in 1997 by husband and wife team Shannon and Mike Gaines, the San Francisco-based entertainment company Vau de Vire Society has been titillating crowds around the world with its unique brand of interactive and thematic art, dance and circus events. This avant-cabaret community consists of classically-trained dancers, some of the nation's most acclaimed acrobats, aerial artists, sideshow acts, fire-performers, thespians and beautiful circus freaks. The group has been cross-pollinating genres by collaborating with an eclectic variety of world-renowned musicians and DJs in the creation of original stage shows. Notable recent collaborators include The Edwardian Ball (SF & LA) Cirque du Soleil (Corteo), San Francisco Symphony, Bassnectar, The Dresden Dolls, Calvin Harris and The Madd Vibe Orchestra…with live support performances for James Brown, Primus, 50 Cent, Wyclef Jean, Velvet Revolver, The Cure and many other highly respected international artists. In addition to producing the annual SF/LA Edwardian Ball since 2005 and SF's premier NYE event New Bohemia NYE, Vau de Vire is most widely recognized for their numerous music and arts festival commissions, having curated live-music stages and multi-day variety entertainment amidst their custom built environments. Past and ongoing festivals include: Symbiosis Gathering, Outside Lands Festival, Bumbershoot Festival, Download Festival, Lightning in a Bottle, Exprescion on Alcatraz, Burning Man and Super Village at Super Bowl XLV.

What: Vau de Vire Presents The Soiled Dove
Tagline: An immersive, circus-infused culinary extravaganza set in San Francisco's notorious Barbary Coast red light district.
Where: Tortuna Big Top on The Taxiway at Point Alameda, 2153 Ferry Point, Alameda, CA 94501
Tickets: $45 GA to $120 VIP (includes 4-course dinner) – Ages 21+
https://www.eventbrite.com/e/the-soiled-dove-tickets-25858196562?aff=VDVFB
Important Links:
The Soiled Dove – http://www.thesoileddove.com
Vau de Vire Society: http://vaudeviresociety.com
VdV Facebook: https://www.facebook.com/vaudeviresociety/
http://www.tastetv.com/theme2/wp-content/uploads/2016/07/the-soiled-dove-8211-popup-supper-club-caberet.jpg
360
640
TasteTV
http://www.tastetv.com/theme2/wp-content/uploads/2014/06/enfold-logo-test2.jpg
TasteTV
2016-07-11 15:52:20
2016-07-11 15:52:20
The Soiled Dove - Popup Supper Club Caberet