San Francisco used to be the leader in California cuisine. But that is no longer exactly the case. Over the last few years Los Angeles has flexed its muscles, and become a true food destination. But among all of the great shops and innovators in Southern California, it would be surprising to find out that one of the newest and most exciting entries comes from a restaurant in a hotel near Los Angeles airport, LAX.
Costero is a very pleasant surprise. Formally known as the uber-Italian restaurant "Paparazzi" in the Sheraton Gateway hotel, it is a new home for California style cuisine with a coastal influence. Based in the ground floor of the newly renovated hotel, this food spot is somewhere that we would recommend to everyone. Why we say that it is simple. The menu is what we would call "Seven Days." What this means is that there is so much delicious creativity and comfort food, combined with upscale yet approachable ingredient combinations, that if we had to eat there for an entire week we would be able to enjoy it and be satisfied without ever having the same dish in seven days.
At the helm of this menu is Executive Chef Orazio Parisi. Chef Parisi returns to the Sheraton after several years of working at other establishments, and has also been known and awarded as one of the best chefs in Los Angeles. What he has done with this menu shows that this is not an unmerited boast.
To give you a good idea of what we are talking about, let's go over a few of the items that we sampled on our visit.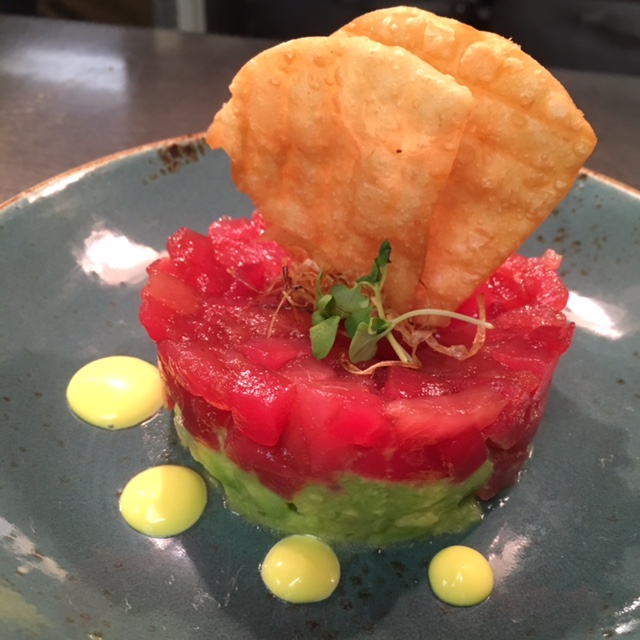 Tuna Poke: Ahi tuna, crushed wasabi avocado, Meyer lemon aioli
The color of the tuna was vibrant, to say the least. That was a bit surprising, but what was more surprising was how fresh and delicious it was. Sourced from the West Coast, flown in daily. This is some of the best poke that you can get that is not from a specialty poke shop.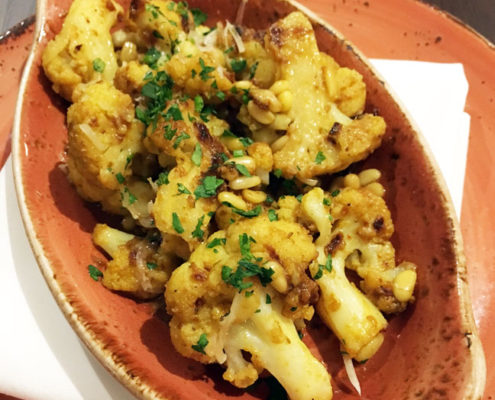 Roasted Cauliflower: vadouvan, ages Vella jack cheese, pine nuts, garlic
As every Californian can tell you, roasted cauliflower and roasted brussel sprouts are staples now as side dishes, especially as people embrace healthier food that is not french fries. This roasted cauliflower dish was expected to be good, but the Middle Eastern and Mediterranean influences on it were beyond expectation. There was a subtle Tumeric note in the profile, and the cauliflower absorbed flavors deep into the center of each piece.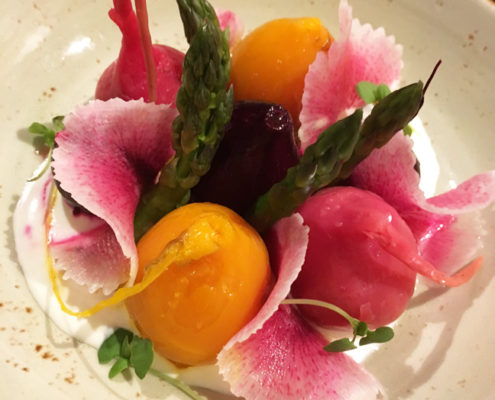 County line baby beets: goat cheese mousse, asparagus, radish, pistachios, and petite greens
All of the vegetables are fresh and locally sourced, and it shows.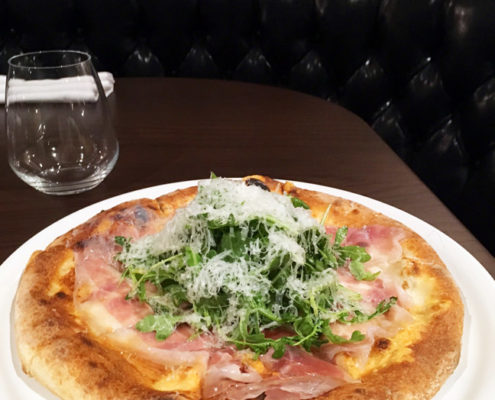 Bianca pizza: prosciutto, wild arugula, mozzarella, asiago cheese, and truffle oil
This white pizza was basically an excellent crust, made in a true Italian style in a pizza stone oven, with a combination of prosciutto, asiago ,and truffle oil. These different levels of hearty and earthy flavors melded into a mouthwatering experience. The addition of the wild arugula however gave a bit of a green clover-like contrast to each bite.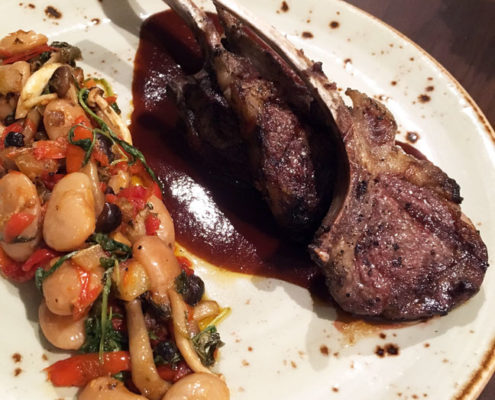 Lamb chops: Peperonata, giant beans, pioppini mushrooms, Coachella desert arugula, lamb-port sauce
New Zealand lambs are cooked for excellent tenderness and flavor in the chef's kitchen. Not as gamey as some cuts of lamb, yet definitely for the lamb lovers. The big find of this dish was actually the addition of the giant beans. These lima bean type varietals have an almost citrus-like flavor, and frankly we cannot eat enough of them as part of the dish.
Although this seems like quite a bit to eat in one meal, it could actually be considered as simply Day One out of Seven Days.
We look forward to seeing more from Costero and hearing from its growing number of food-loving fans.
BONUS: Try the Sheraton Gateway's waffles!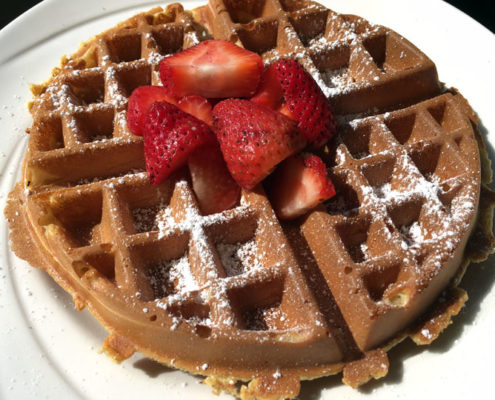 Costero | Sheraton Gateway LAX
6101 West Century Boulevard
Los Angeles, CA, 90045