Want to escape Reality? Check out That VR Joint
One of the hottest new entertainment technologies today is called Virtual Reality (VR). When you immerse yourself in this experience by using a headset, you can look to the left, to the right, and up or down and see different 360º views that make it feel like you're actually there. When you add in stereo sound, and possibly some joysticks, then in some ways there is not much of a difference between reality, and virtual reality.
As one entrepreneur in Melbourne, Australia has demonstrated, you can have an entire business based on virtual reality by itself. Alan Convery of that VR Joint has taken the idea of a video arcade, and combined it with virtual reality games plus VR tech like Samsung Gear, Oculus Rift, HTC Vive, and GT Simulator Chairs, to create an interactive environment for people and companies to have fun, bond, and experience another world.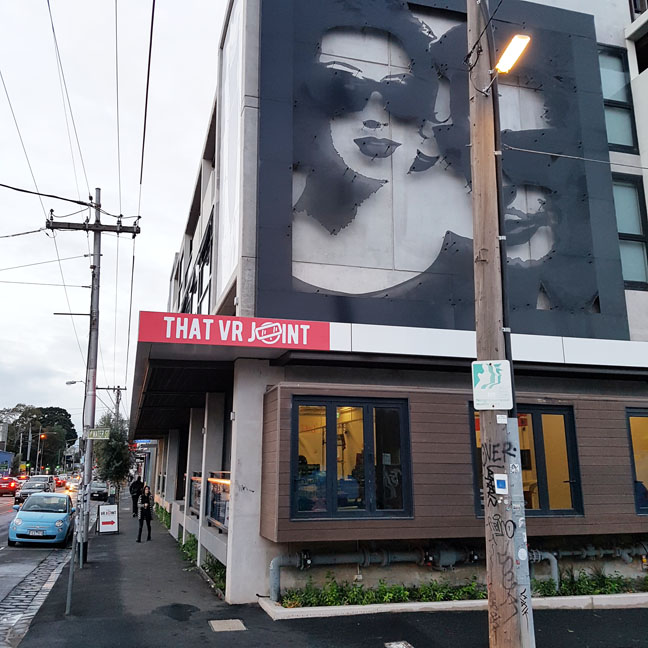 TasteTV: What is That VR Joint?
AC: It is a place where people of all ages can come and try out the best VR tech available. They can fly like an eagle, or sit in a dark sewer waiting for zombies. Climb a chocolate wall or cast spells from the Netherworld. Drive a Ferrari or fly a jet plane. If you can dream it, you can do it here. Coming soon are international tournaments with other arcades around the world so you better get some training in!
TasteTV: How is this different than a regular gaming arcade?
AC: This is the new paradigm in arcades. The old way is dead, long live VR! No flashing lights and claw machines, no tickets to win plastic toys and no surly attendants. Here you are tended to by the most friendly staff that will talk you through the library, help you with the buttons and a high score on our leaderboard gets you a free half hour session. How cool is that???
TasteTV: Aren't some areas of the place essentially just an empty room?
AC: Well, not really. We have booths that are 4m x 4m and there is an overhead cable system that keeps the wires out of the way, and a padded floor just in case you decide to collapse in terror.
TasteTV: How did you decide to start this business?
AC: I have been waiting for VR since the 90's, and now that Palmer Luckey from Oculus brought it back from the dead, I thought that I had better get started in the business. It's taken me 25 years to find my dream job and now I have it.
TasteTV: What are some of the opportunities?
AC: The opportunities are massive. This is right at the start of a wave, so those that strike out now have a chance to stake their claim
TasteTV: What have been some of the challenges?
AC: Getting the tech to behave and do as it's meant to. There are a million things that can go wrong, and you need a cool head to problem solve when there are customers waiting
TasteTV: What do you see for the future of VR and places like the VR Joint?
AC: VR will explode in the next few years. You will be watching sports games from the front row, gigs from the stage, games from inside of them. As for That VR Joint, well we just want to show Australia what fun VR is, and we aim to build a network of franchises to spread the good word of VR.