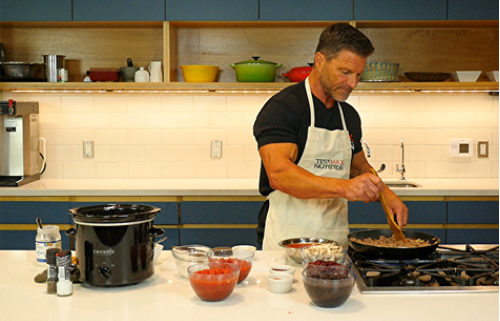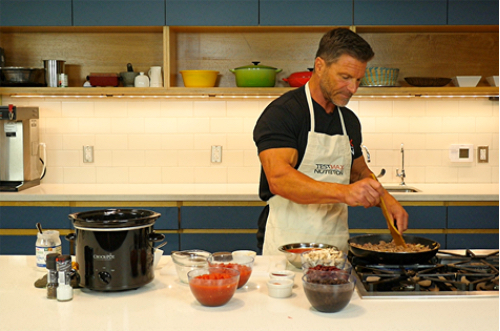 The Super Bowl is not usually associated with losing weight, unless of course you are one of the football players in it.
It is even more likely you will gain weight it you are a man over 40. When men's testosterone levels are low, they face muscle loss, low energy and loss of sex drive. Additionally, their body stores most of the food they eat as belly fat, says Clark Bartram, 53, Performance & Nutrition Industry Expert for Six Pack Abs, and Lead Advisor to the International Sports Sciences Association.
Rather than get testosterone treatments or "legal steroids" (with frequent side effects) from a physician, Bartram says, "Let food be your medicine."
The fats in red meat as well as salmon and tuna boost testosterone, he said.  Other such foods are: almonds, garlic, eggs, cabbage, spinach, asparagus, avocados, bananas, watermelon, citrus fruit, grapes, and honey.
For Super Bowl chili, adding white button mushrooms are a key ingredient to blocking estrogen, the female version of testosterone.  Estrogen can cause a man to bloat, develop breast tissue and store more fat around the waist.  Rising estrogen levels also cause your belly fat to start producing a testosterone killing chemical that creates even more estrogen.
Clark Bartram's Super Bowl Chili Recipe
2 lbs. ground beef (15% fat)                  1 can kidney beans
1 cup white button mushrooms              1 can black beans
1/2 cup chopped onions                        1 can organic chopped tomatoes
2 tbs. chili powder                                 pinch of salt
jar organic tomato puree                        garlic to taste
1.) Sauté ground beef until it is brown.
2.) Place meat into big pot and add all other ingredients.
3.) Cook on medium heat, stirring occasionally, for 30-45 minutes.
http://www.tastetv.com/theme2/wp-content/uploads/2017/01/Super-Bowl-Chili8-f87127b29013_0-copy.jpg
331
500
TasteTV
http://www.tastetv.com/theme2/wp-content/uploads/2014/06/enfold-logo-test2.jpg
TasteTV
2017-01-23 20:42:53
2017-01-23 20:42:53
Healthy Super Bowl Chili