Highlights from the Popup Artisan Fragrance Salon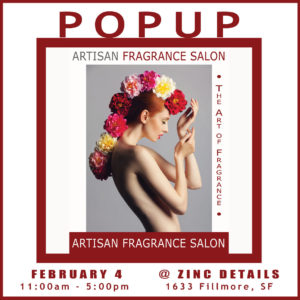 TasteTV recently held its first Popup Fragrance Salon, at the chic and upscale Zinc Details design store in San Francisco.
The popup featured a curated selection of the finest in artisan, custom, niche and premium perfumes from 10+ fragrance designers. The designers came from around the San Francisco Bay Area, as well as from Portland, Los Angeles, and even Barcelona.
Olympic Orchids Perfumes*
Ineke Perfumes*
COGNOSCENTI*
Maison Anonyme
A Wing & A Prayer Perfumes*
MIKMOI*
El Jardí Secret
Velvet & Sweet Pea's Purrfumery *
La Fleur by Livvy*
Meshaz Natural Perfumes*
En Voyage Perfumes*
Fragrance aficionados, fanatics, buyers and journalists came to experience the finest in artisan, custom, niche & premium aromas at this one-day Popup fragrance salon.