Home
&

Office Luxury: Agraria's Monique Lhuillier Diffuser
If you would like to make a fragrance upgrade to your home or office, the new diffuser by Agraria and its collaborative partner Monique Lhuillier is a fantastic way to do so. Interestingly with this new diffuser combo we were intrigued by three things.
First, the shape of the vase and the glass plate that goes underneath it, along with a glass bottle stopper, are both very well-designed as well as elegant. Standing alone on a counter top, piano, coffee table, or on a shelf, these alone would be great decorative items.
To make the combo function as a diffuser, first you add the fragrance oil into the vase.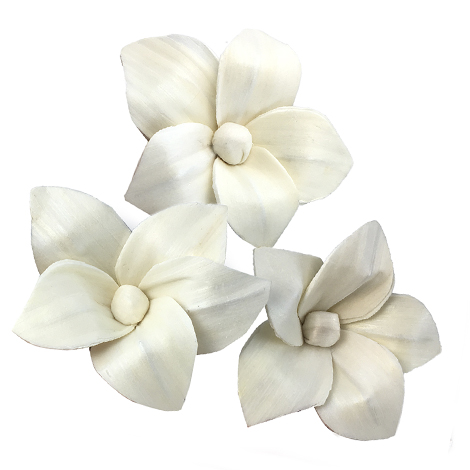 Second, you unwrap the sola flowers that are provided with the set, and insert them into the vase. As with normal diffusers that use diffuser sticks, the sola stems absorb the oils up into a larger surface area where they can produce an aroma in the room. However instead of using simple bland diffuser sticks, this diffuser uses decorative sola flowers.
Sola flowers are paper-thin handmade artificial flowers that are made from an all-natural plant which is common in Asia. Before you add them to the oil they are dry, wrinkled and folded, but upon absorbing the liquid they slowly unfold and "bloom". These blooms are primarily where the fragrance scents are distributed into the air.
There is a surreal element to the concept. In essence the sola smell like beautiful flowers, and they look like real flowers. They are quite convincing, and not coincidentally we had to tell people repeatedly that these were not real flowers and were actually paper. Fortunately, unlike real flowers these buds lasted for months. By our estimates the fragrance oil could last up to six months on just one refill. In addition, the sola flowers, aside from possibly getting small amounts of dust on them, do not deteriorate like normal blossoms. This means you could have this fragrant flower affect in a room for a great many weeks, and at any time of year.
One caveat is that this combo diffuser's fragrance is noticeable, so if you want something that's very very slight, this might not be for you. However, if you love a fragrant environment and a beautiful design that you can also display as a showcase piece or an accent, then we highly recommend it (especially as a gift).
The entire Agraria Monique Lhuillier Diffuser combo set is available on Amazon.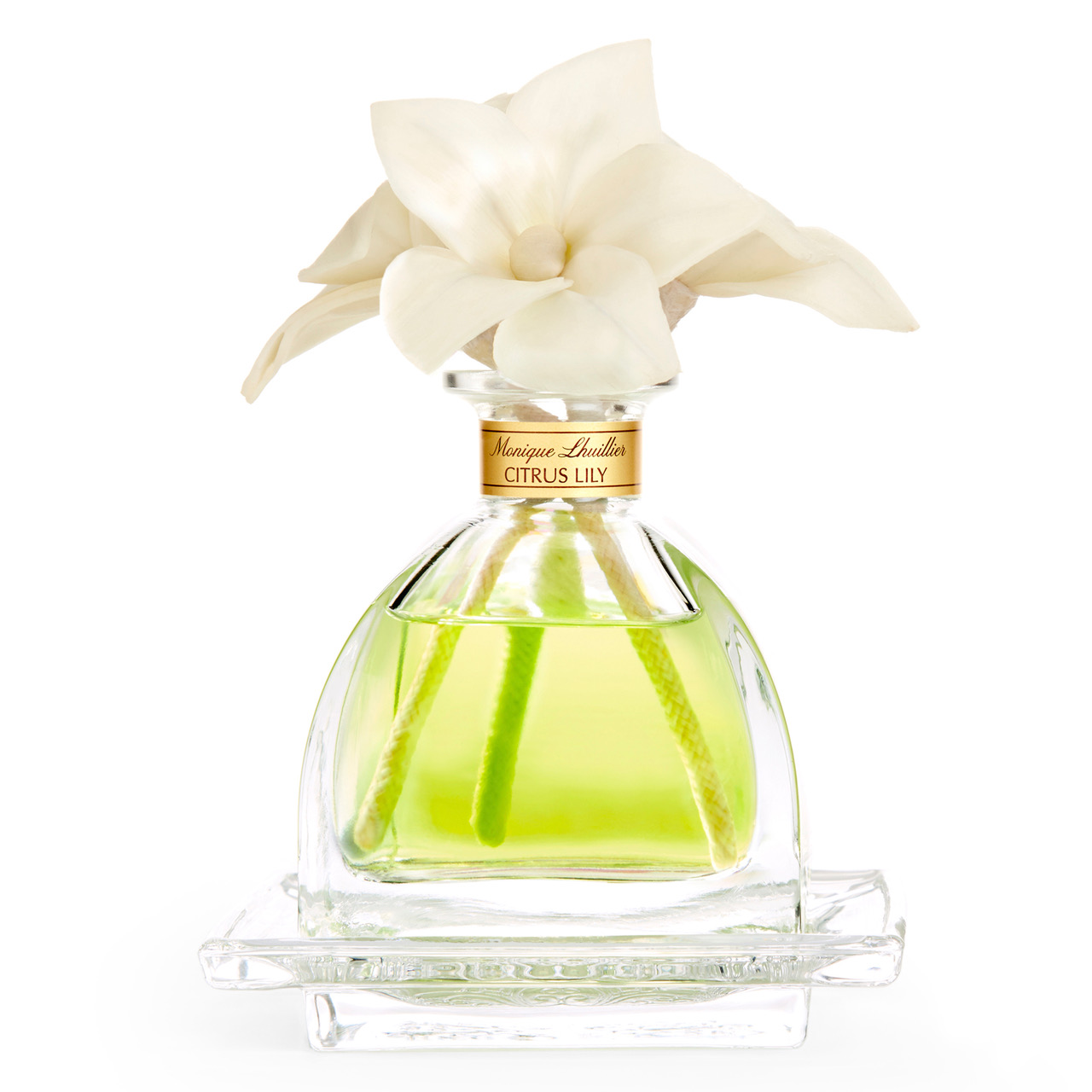 More about the Collaboration here:
Agraria, America's oldest and most celebrated luxury home fragrance company, announced today its newest collaboration with renowned bridal, ready-to-wear and accessory designer, Monique Lhuillier.
Monique Lhuillier's new home fragrance, Citrus Lily, brilliantly captures the designer's glamorous and sophisticated aesthetic as well as her lifelong love of flowers. Bright citrus top notes introduce this lush, modern bouquet of lilies, freesia, ylang-ylang and jasmine. The exotic and graceful background is created with infusions of warm Indian sandalwood and romantic musk. The complex and mysterious formulation is authentic Agraria while the scent's enchanting allure is distinctively Monique Lhuillier.
The Citrus Lily collection will be available as an AirEssence™ flower diffuser ($150) and Perfume Candle ($60). Boldly fresh and romantic packaging echoes the fragrance's lush notes.
"I am so delighted to collaborate with Agraria on my new home fragrance collection," said designer Monique Lhuillier. "Citrus Lily combines some of my favorite flowers – orange blossom, gardenia, jasmine and ylang-ylang – for a fresh, but sophisticated, take on the modern floral bouquet."
"Collaborating with Monique Lhuillier has been an inspiration for our entire team," said Agraria President Jim Gentry. "Her enthusiasm and commitment to the project has resulted in a fragrance that interprets classic scents but with a fresh contemporary twist. With meticulous attention to detail, her hands-on approach to design has resulted in a stunning home fragrance collection that is as beautiful as it is fragrant."
Monique Lhuillier's Agraria collection will make its worldwide debut this fall in Harrods' Luxury Home Fragrance Room and will be available in select specialty and high-end retailers including Bergdorf Goodman, Neiman Marcus, Saks Fifth Avenue, Bloomingdale's, agrariahome.com and Monique Lhuillier stores and moniquelhuillier.com.