Chocolate
&

Wine Cruise on the SF Bay – Spring Edition

Join us for The Spring Edition of the Chocolate & Wine Cruise
Because it was great fun both times, a grand adventure, and sold out, we will be going on a SPring Chocolate & Wine Cruise on the Bay on May 6th.
The day's adventure takes place onboard a luxury yacht, where you will taste wines from a local winemaker, along with samples from a curated selection of local chocolatiers and culinary artisans.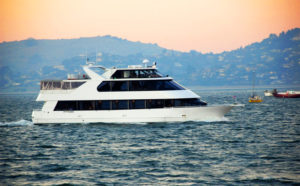 Walk among the various chocolatiers and experience their latest creations. Explore and luxuriate on the yacht, and enjoy it all during the 2-hour cruise on the San Francisco Bay.
Then take home some of that great chocolate and wine you've discovered and purchased onboard for continued enjoyment.
The Chocolate Cruise is Limited to a lucky 130 attendees.
RESERVE YOUR SPACE AND TICKETS HERE
The 1st Edition winery was Social Impact and the chocolatiers included: Rainy Day Chocolate, Heavenly taste toffee, flying noir, Kindred Cooks, Starchild Chocolate, and R & J Toffees.