Recipe for Lychee Lake Cocktail from with Vodka
As they say, it's after 4:00pm somewhere, which means that it's cocktail time.
We have a great recipe for a Lychee Lake Cocktail, provided by LEAF® Vodka.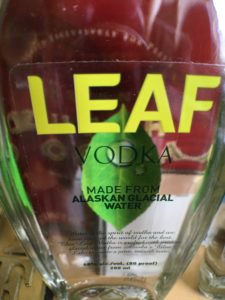 LEAF® Vodka is "Made in the USA" at Temperance Distilling in Michigan (yes, that's the town's name). They named it LEAF to evoke it's organic, all natural qualities.  LEAF believes vodka's main ingredient, water, and sources it from a variety of sources. One variety is made from Alaskan Glacial water, and another is made from Rocky Mountain mineral water.
"LEAF Vodka's naturally-sourced waters are fundamental to its taste and quality," say Maxim  Dubossarsky, CEO of Global Spirits, owners of LEAF Vodka.  "These taste attributes, and the fact that the vodka is USDA Certified Organic, are being embraced by some of the nation's leading mixologists."
Lychee Lake Cocktail
Ingredients:
2 oz. Vodka
1.5 oz. lychee puree (perfect puree)
0.5 oz. grapefruit juice
0.5 oz. lemon juice
1 oz. sparking rosé wine
Tools: Mixing shaker, jigger, strainer, and muddler.
Method: Shake all ingredients except rosé wine, add ice and shake vigorously
Strain into a martini glass, top off with sparkling rosé, garnish and serve.
Glassware: Martini
Garnish: Orchid
For more information visit www.leafvodka.com