Panko Crusted Salmon with Ginger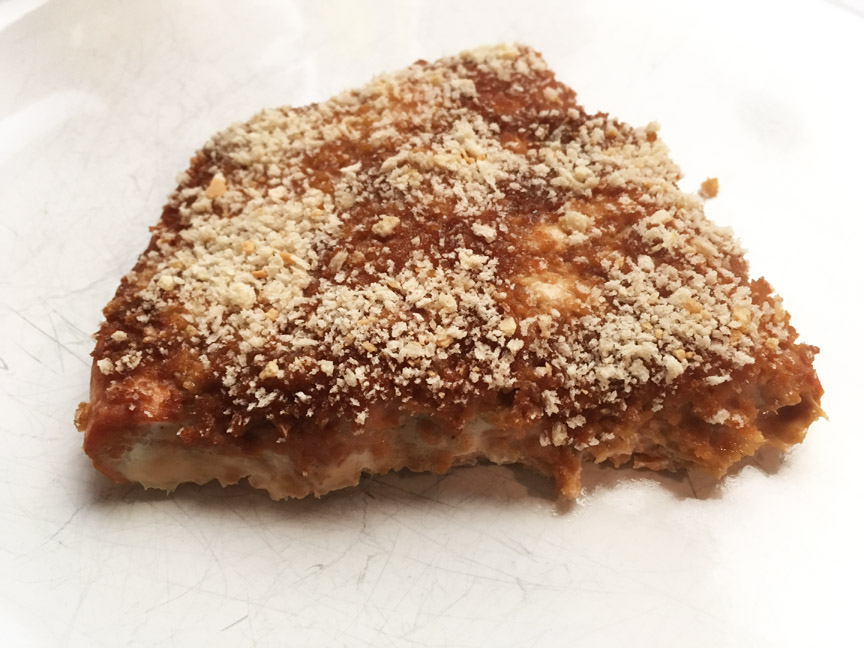 When you feel like having something light and tasty, panko-crusted fish is always a good choice. The fish, with its own seasonal and delicious flavors, combines well with the slightly crunchy aspect of the panko.
We like to use organic panko whenever possible, and we have found a brand that does a very good job with it, Edward & Sons. The panko is certified organic, and is low in sodium. It also has a nice sized grain to it, and the plastic bottle is useful to protect the panko from the elements, as well as to let you know how much you really have left.
Our recipe for panko crusted salmon is able to be made within 30 minutes, or two hours, depending on how long you allow the salmon to marinade. We prefer to let it marinade a little bit longer than 10 or 15 minutes, but that is what you can do if you are short on time. Also this is great for barbecues. You can wrap the salmon lightly but completely in aluminum foil and then place it on a grill for basically the same effect.
INGREDIENTS
Two boneless salmon fillets (skinless)
1 cup of organic panko
1/2 cup soy sauce
1/2 cup of teriyaki sauce
3 tablespoons of ginger powder
1 tablespoon of garlic powder
salt and pepper
DIRECTIONS
Combine sauces in bowl, then add ginger and garlic powders. Stir together, then lightly salt and pepper.
Place fillets in casserole or flat bottom container, and pour sauce mix over fillets. Allow to marinate for at least one hour in the refrigerator.
Heat oven to 420 degrees.
Pour the sauce from the container with the fillets into a small sauce pan (do not include the fillets), then simmer over a low heat for about 5 minutes until the sauce has been reduced and thickened.
Cut each filet into two pieces, then plan on an aluminum foil lined oven tray. With a spoon, pour the reduced sauce across the top of each filet, then smooth evenly using the bottom the spoon, so that they tops of each piece are covered in the sauce. (The reduced sauce is being used as an adhesive for the panko, plus concentrated flavor for the fish).
Sprinkle panko across the top of each filet. Press panko down onto the filet gently with your hand.
Place fillets into oven for approximately 18-25 minutes, depending on thickness of fillets.