Two French Wines to Pair with Seasonally-Inspired Meals
French wines are generally all-weather in their appeal, yet that doesn't mean that they cannot be paired selectively with seasonal dishes.
Two such wines are Crus Bourgeois in Medoc and Côtes-du-Rhône Villages for the Rhône Valley. These can be paired with a range of recipes, including those inspired by the bistros of their regions, Medoc and Côtes-Du-Rhône.
Cru Bourgeois is the lesser known of the two for the average wine drinker.
A Cru Bourgeois du Médoc wine is produced in one of eight prestigious appellations of Bordeaux (Médoc, Haut-Médoc, Listrac-Médoc, Moulis en Médoc, Margaux, Saint Julien, Pauillac, or Saint Estèphe) and has satisfied the strict quality selection procedure by which all applicant wines are reviewed annually. All wines meeting the criteria proudly display the Cru Bourgeois (CB) logo and authentication sticker (since the 2010 vintage). The wines are made mainly from Cabernet Sauvignon, Merlot, Cabernet Franc, Petit Verdot.
Many casual wine drinkers are much more familiar with Côtes-du-Rhône labels, but perhaps not with the "Village" appellation. A Côtes-du-Rhône Villages wine is a higher tier of Côtes du Rhône wines and is exclusive to the Southern Rhône. Spread across 95 communes, Côtes du Rhône Villages wines can be designated as either a regional blend, or labelled as being from one of 18 communes officially recognized for their specific growing characteristics (soils, climate etc.). Some important communes that make up the 18 include: Puyméras, Visan and Saint-Maurice
SUGGESTED PAIRINGS: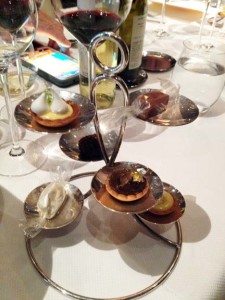 Cru Bourgeois
Dish: Entrecote bordelaise avec frites – Steak in red wine with shallots and French fries
Wine: Haut-Logat Haut Medoc Cru Bourgeois* 2012 (SRP :$25)
A grilled meat dish pairs perfectly with this well-structured wine which has an elegant touch of XX. The château's vineyard overlooks the village of Cissac-Médoc, between Saint-Estèphe and Pauilac and has been classified as Cru Bourgeois* in 2012, a level below Cru Classé but satisfying some strict quality criteria each year. Haut-Logat is a blend of Merlot (45%), Cabernet Sauvignon (45%) and Cabernet Franc (10%).
Côtes-Du-Rhône
Dish: Pot-Au-Feu – Classic French beef stew slowly cooked with vegetables

Wine: Les Dauphins Côtes-du-Rhône Villages Puyméras** Rouge 2014 (SRP: $18)
The ripe red fruit fragrance and hint of spice of the wine perfectly complements a hearty stew. It is produced from vineyards sources with an average age of 30 years in Southern Rhône's classified winegrowing commune of Puymeras, the Les Dauphins Côtes du Rhône Villages Puyméras Rouge 2014 (SRP: $17.99) is a blend of Grenache (70%), Syrah (20%) and Carignan (10%).