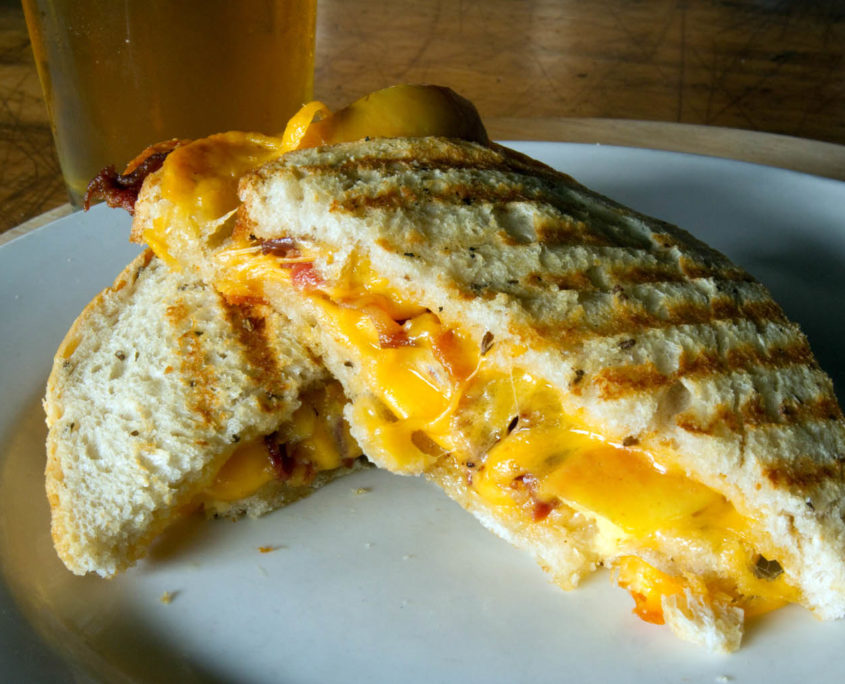 Grilled Cheese is near the top of the all time list of North America COMFORT FOODS. It is easy to make, quick, versatile, tasty, and inexpensive. A 7 year old could make one, as well as a money challenged college student, or a cutting edge gastropub chef.
The Grilled Cheese & Beer Cookbook arrives just in time for the renaissance of appreciation for the grilled cheese. The book has a passion for all things grilled cheese and beer, with easy-to-follow instructions that make it perfect for any skill level. It contains over 50 one-of-a-kind grilled cheese sandwich recipes, perfectly paired with craft beers designed to draw out the full flavor of each ingredient.
Some of the recipes in the cookbook include Bacon Me Crazy, Muenster Mash, Dragon Ball Cheese, Revenge of the Swiss, and Not Your Dad's Fried Bologna.
Here are two two cheesy recipes straight from the cookbook.
Recipe #1: Johnny Apple Cheese
Ingredients:
2 slices whole grain bread
4 slices Adirondack cheddar cheese
1 granny smith apple
3 strips of bacon
Directions: Grease one side of each slice of bread and place in a pan on medium heat, greased side down. Place the cheddar on the bread so that all of the bread is covered. Thinly slice the granny smith apple and place it on one slice of bread so the cheese and bread are completely covered. Add bacon strips to the other slice of bread and cheese. Once the cheese is melted, put the sandwich together and tada! You are all set.
Beer Pairing: This one has a lot to work with for something so simple. A good European-style lager will do well to complement the sharpness of the cheddar and the smoky flavor from the bacon. Heineken and Grolsch would both do fine, but for those looking to accentuate the apple, why not try it with a cider? Although not beer, anyone trying this on a warm sunny day shouldn't shy away from a nice Angry Orchard or Naked Flock to hit the notes a beer wouldn't.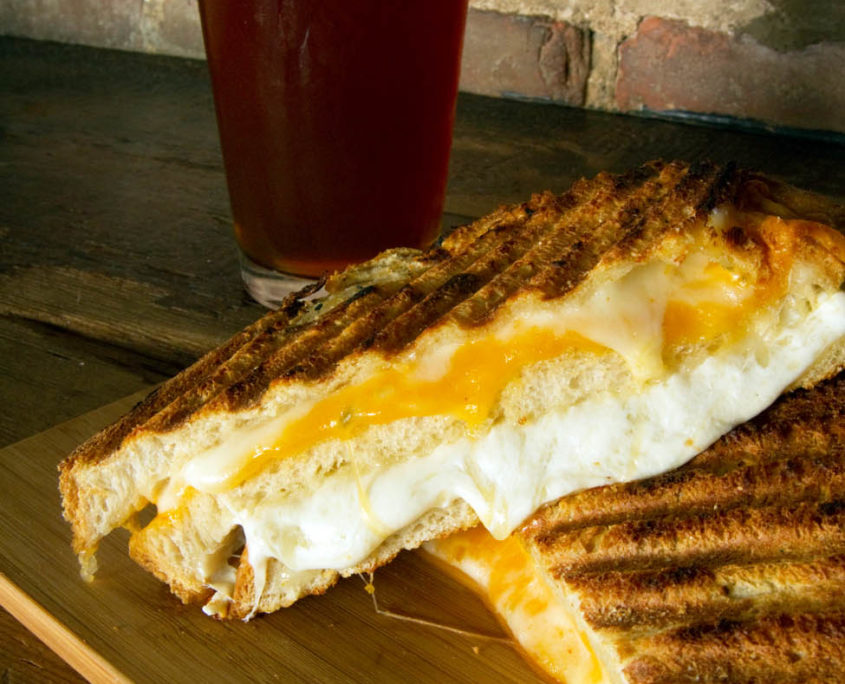 Recipe #2: Ménage à Cinq
Ingredients:
3 slices of sourdough bread
2 slices of cheddar cheese
1 slice mozzarella cheese
1 slice of Muenster cheese
1 slice pepper jack cheese
1 slice provolone cheese
1/4 avocado
Directions: Grease one side of each slice of bread and place in a pan on medium heat, greased side down. Cover all three slices with cheese (in no particular order). Once the cheese is melted, put avocado on two slices. Slap it together and enjoy!
Beer Pairing: This is our ode to one of our favorite show, The League. Except, instead of it being Andre's swanky wine bar, it's a delicious sandwich paired with a light refreshing lager—one with some punch behind it. Otter Creek's Citra Mantra is a pretty good bet if you can find it. If not, the guys on the show always prefer Stella Artois or Bud Light. Old post office boxes are a pretty sweet idea for a bar, though. Right?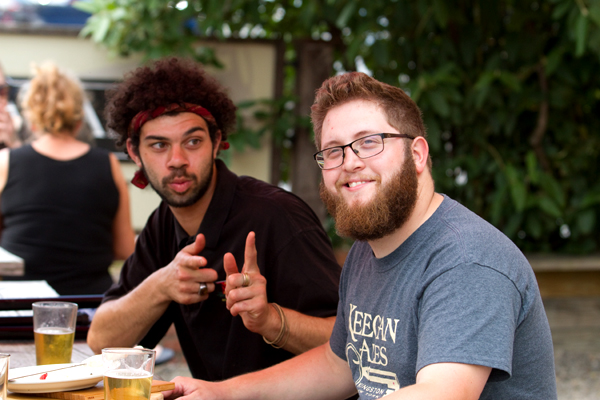 ABOUT THE AUTHORS
Kevin VanBlarcum is a brewer at Keegan Ales in Kingston, NY. After graduating from the University at Albany, he began pursuing a career in the brewing industry. Born and raised in the Catskill Mountains, Kevin currently resides in Pine Hill, New York. James Edward "Eddie" Davis has honed his skills as a chef from Brooklyn, NY to the Catskills. Eddie fell in love with the culinary arts and began to hone his skills at a local favorite, The Caboose.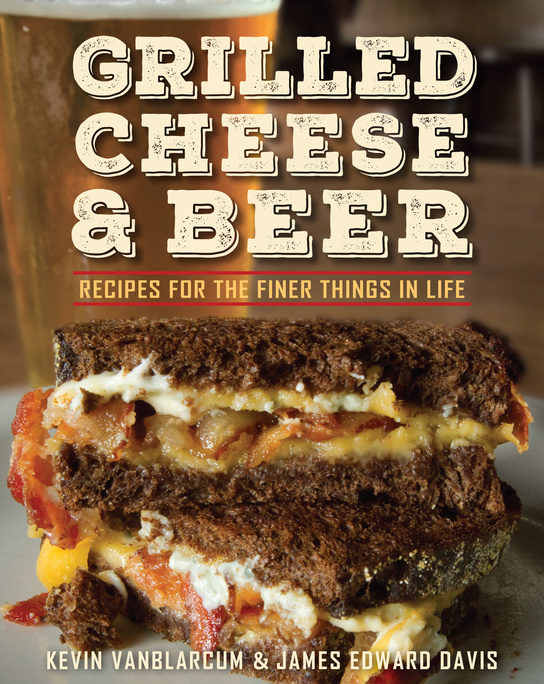 GRILLED CHEESE & BEER
Written by Kevin VanBlarcum & James Edward Davis
978-1-57826-653-1, $16.95 paperback
978-1-57826-654-8, $12.99 eBook
Find it on Amazon here.
Published by Hatherleigh Press.
Distributed through Penguin Random House.
Available wherever books are sold.
www.hatherleighpress.com
http://www.tastetv.com/theme2/wp-content/uploads/2018/01/Menage-a-Cinq-copy.jpg
1463
975
TasteTV
http://www.tastetv.com/theme2/wp-content/uploads/2014/06/enfold-logo-test2.jpg
TasteTV
2018-01-23 16:19:35
2018-01-23 18:04:05
Two Great Recipes from the Grilled Cheese & Beer Cookbook