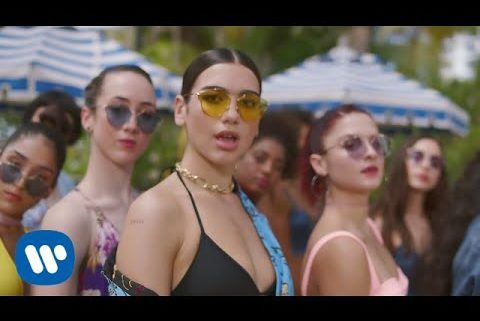 Today's TasteTV music video pick is by Dua Lipa, called "New Rules."
The song was recently ranked as the official UK NUMBER 1 song and the first solo female #1 since Adele's "Hello."
The staccato beat is refreshing, with a repetitiveness that is catchy but also improvisational. The lyrics are a great match with the actual music video visuals, which show a love sick disenchanted woman learning the new rules of relationships and hookups from her various friends, and then eventually passing them on to others in need. The well synchronized dance routines are choreographed yet spontaneous, ranging in locales from a hotel bedroom, to the bathroom, to the hotel swimming pool.
The video filters and styles have a flashy nouveau tropical vibe that makes the viewers feel cool and hip, especially when seen with the multi-hued designer sunglasses worn by her diverse multi-ethnic 'posse' of advisers and friends.
In this video, the ladies literally walk on water. Once you start humming, "I've got rules, I've got rules," you'll find the Dua Lipa ear bug has been caught for this song. The rules are contagious.
She is currently on tour around Europe, Asia and the United States. We certainly look forward to seeing her act live!
---
MORE ABOUT DUA LIPA
According to Wikipedia: "Dua Lipa (/ˈduːə ˈliːpə/; Albanian pronunciation: [dua liːpa]; born 22 August 1995) is an English singer, songwriter and model.[5][6] Her musical career began at age 14, when she began covering songs by other artists on YouTube. In 2015, she was signed with Warner Music Group, and released her first single soon after. In December 2016, a documentary about Lipa was commissioned by The Fader magazine, titled See in Blue.[7] In January 2017, she won the EBBA Public Choice Award.[8] Her self-titled debut studio album was released on 2 June 2017. The album spawned seven singles, including the top-10 single "Be the One" and the number-one single "New Rules"."
http://www.tastetv.com/theme2/wp-content/uploads/2017/09/music-video-pick-dua-lipa-8211-new-rules-1.jpg
360
480
TasteTV
http://www.tastetv.com/theme2/wp-content/uploads/2014/06/enfold-logo-test2.jpg
TasteTV
2017-09-15 04:48:01
2017-10-06 19:57:28
Music Video Pick: Dua Lipa - New Rules