THE DOG'S GUIDE TO SURFING
Humans aren't the only "surf dogs" – surfers' four-legged friends love water too, and many even like catching waves. These amphibious canines are special creatures: Top surfers believe that dogs who learn to surf develop a unique attitude, knowing they have something that sets them apart from other dogs.
For anyone who loves the antics of "man's best friend," The Dog's Guide to Surfing is indispensable, collecting stories, lessons, and advice in one richly illustrated book. For surf-lovers, there's also plenty of information on surf gear and riding a wave, both with and without a pooch. From mounting a massive seven-footer to simply playing in the water, The Dog's Guide to Surfing shows how to really be a surf dog.
A lighthearted read and … a fun holiday gift for the surfing dog-lover on your list. — Santa Cruz Sentinel,
For you if you make little cooing noises when you see a Labrador in a bandana and sunglasses. — Surf Life For Women Magazine,
Fun! — Huntington Beach News,
Teach your dog how to rip with personal stories, lessons, advice, movies, gear and surfwear, everything a surfdog needs. — SURFING Magazine,
You're going to howl from cover to cover and be talking about this book…for months. — The Maui Weekly,
THE BOOK THAT LAUNCHED AN ACTUAL NEW SPORT!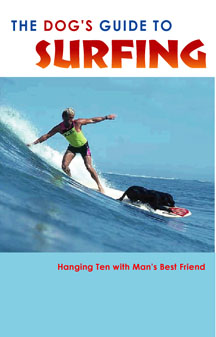 The Annual World Dog Surfing Championships take place in Northern California, bringing together the best in local and international dog surfing talent. A portion of the proceeds go to dog and environmental non-profits. Additional events are planned for  other locations.
The Surf Dog Competitions sponsored by TasteTV, were originally created by TCB Cafe Publishing as the "Small Wave Surf Dog Competition" in 2006, which took place at the Loews Coronado hotel in San Diego.
The very first Surf Dog competition in history was conceived and proposed by the author of the book, "The Dog's Guide to Surfing." After approaching a local Southern California hotel to host the competition, the debut event took place at the Loews Coronado hotel in San Diego. Its success was so great that it has spawned several similar dog surfing events across the world.
TCB Cafe Publishing is now expanding its original Surf Dog Competition to an International surf dog contest series including local surf groups, dog and pet organizations, and fun-loving friends for the title of "World Surf Dog Champion".
DATE AND LOCATION
Time: 9am – 2pm
Location: Pacifica, California
(San Francisco Bay Area)
TO REGISTER
Registration information, rules, schedules, judges, prizes and more are available at www.SurfDogSeries.com.
SPONSORS AND PARTNERS
Sponsor and Partner information are available at www.SurfDogSeries.com. . To become a sponsor or partner for this event, please contact us