See Video about the SF International Chocolate Salon
(filmed by TasteTV)



(filmed by NBC)
"The Original and Premier West Coast Event to Taste and Savor the Chocolate Lovers Experience"
NOW IN ITS ELEVENTH YEAR!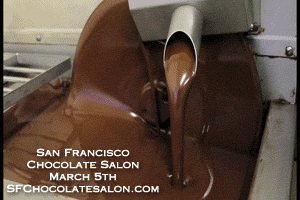 LOCATION AND TIMES

March 18, 2017
10:00 a.m. - 5:30 p.m

Location
Hotel Kabuki
Garden Level (Entire)
1625 Post St
San Francisco, CA 94115


TICKET INFORMATION

*All Tasting & Events Included with Entry*
Adults: $20 Advance Purchase
Adults: $30 (Door)

Children under 6: Free*
Children, 6 to 12: $10
*Applies to 2 children per adult. Each additional child under 6: $10

(Salon Entry includes all chocolate & wine tastings, demos, etc.).
This year's Official Charity: TBA



WHAT CAN I TASTE?

Once you enter the Chocolate Salon, you can savor, discover, and enjoy samples from any of the participants.

(*must be over 21 to taste wine or spirits, if available)

Follow us on Twitter @ChocolateSalon


WHAT IS A SALON?

A Few Useful Definitions:

An assembly of guests in such a room, esp. an assembly, consisting of the leaders in society, art, politics, food, etc.
A hall or place used for the exhibition of works of art.
A shop, business, or department of a store offering a specific product or service, esp. one catering to a fashionable clientele