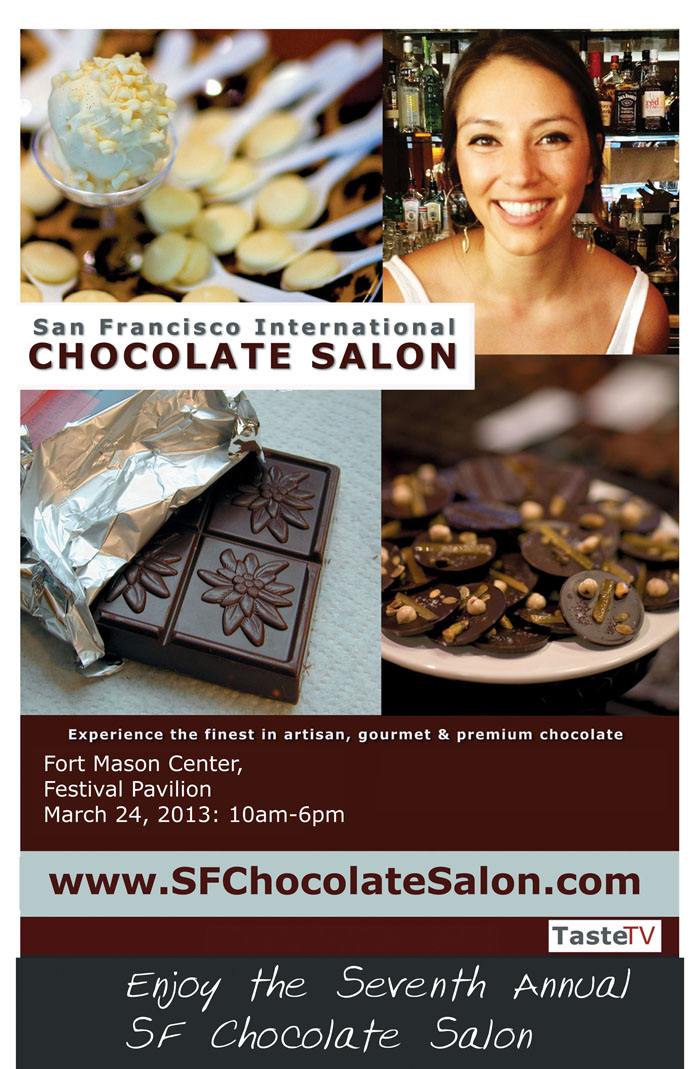 Chocolate lovers, get ready for a world of premium chocolate!

The Original and Premier Artisan Chocolate Show on the West Coast takes place this Spring at the 8th Annual San Francisco International CHOCOLATE SALON, March 15th, 2014 at the Fort Mason Center in San Francisco. Chocolate aficionados, fanatics, buyers and journalists can experience the finest in artisan, gourmet & premium chocolate in one of the world's great culinary metropolitan areas.

55,000 square feet of Chocolate, Wine and Confections

PARTICIPANTS:
Featuring a delicious selection chosen and curated by the Organizers, the 7th Annual International CHOCOLATE SALON participants included over 40 master chocolatiers, confectioners, wineries and other culinary artisans such as Amano Artisan Chocolates, CocoTutti, Taza Chocolate, Butterfly Brittle, FGR, Marco Paolo Chocolates, Jade Chocolates, Socola Chocolatier, Clarine's Florentines, Casa De Chocolates, Smitten Artisan Truffles, Nosh This, Amella Caramels, Sixth Course Artisan Confections, William Dean Chocolates, Kallari Organic Dark Chocolate from Ecuador, Toffee Talk, Rachel Dunn Chocolates, the TeaRoom chocolates, Guittard Chocolate Company, Poco Dolce, Plumeria Flours - cookies & confections, Marti Chocolatt, Landru Chocolates, Toffeeology, Neo Cocoa, Marich Confectionery, Saratoga Chocolates, Mission Blue Confections, Snake & Butterfly, Quail Point Chocolates, Kika's Treats, Fab Delights Chocolate Truffles, NEWTREE Gourmet Chocolate Bars, Charles Chocolates, Friend in Cheeses Jam Company, Earthbody, Farm Fresh To You, SpringLoaf Catering & Event Planning, Jerk'NPickle artisan beef jerky, Be A Gourmet, the Bread Project, The Melt food truck, and more.

Beverage Partners included the Winery SF, Quady Winery, R&B Cellars, Almanac Beer "Biere de Chocolat", Vibrant Rioja wines from Spain, Tipsy Tea, ChocolatRouge wine, Chocolate Shop Wine, Moreno BHLV Sparkling, Rosa d'Oro Vineyards, Spicy Vines, Alquimia Tequila, Raff Distillerie "Emperor Norton Absinthe", Eristavi Winery, Laujor Estate Winery, Wilson Creek Winery Almond Champagne, and DAVIDsTEA.

New Chocolate Salon Additions included Celebrity Chefs, chocolatier panels, new products and flavors, the 2nd Annual SF Invitational Wine & Beer Salon, and more.
See Video Footage from a Tastetv Chocolate Salon
(filmed by NBC)




Other participants included Seamless.com, California Cookie Cutter Collectors' Club, Cuisine Noir magazine, San Francisco Professional Food Society, Gems and Silver, The San Francisco Bay Area Chocolate Meetup, Carolyn Tillie Designs, Dark Garden Unique Corsetry, TasteTV, and more.


ACTIVITIES:
Salon highlights feature chocolate tasting, demonstrations, new product launches and flavor combinations, fair trade & organic offerings, celebrity chef & author talks, wine pairings, Chocolate Art Gallery, games, ongoing interviews by TasteTV's Chocolate Television program, and book signings.


EDUCATION:
Planned Speakers, Demos and Panels included (Subject to Change) Stephen Durfee, Culinary Institute of America • Kathy Wiley, Poco Dolce • Gary Guittard, Guittard Chocolate Company • Art Pollard, Amano Artisan Chocolate • Heinz Rimann, The TeaRoom Chocolate • Bruce Rogers - "Chocolate Scented Orchids and Vanilla Bean Vines" • Leslie Sbrocco of "Check Please" - Pairing Chocolate and Wine • Marcia Gagliardi the Tablehopper - "Marcia's Picks on SF's Best Chocolate Desserts" • Professor Suzanne C. Toczyski, Sonoma State Univ. - "The Story of Chocolate in France" • Amy Sherman, CookingwithAmy.com • Chuck Siegel, Charles Chocolates - "Don't Call it a Comeback!"

2013 Celebrity Appearances by
(subject to change):




Leslie Sbrocco
TV Host, Author
KQED "Check Please"
Thirsty Girl TV



Marcia Gagliardi
Author, Writer
Tablehopper.com, KGO Radio
The Tablehopper's Guide to Dining and Drinking in SF



Art Pollard
Award Winning Master Chocolatier
Amano Artisan Chocolate





Stephen Durfee
Author, CEPC, Culinary Institute of America
"World Chocolate Masters", TLC,
Coupe de Monde de la Patisserie