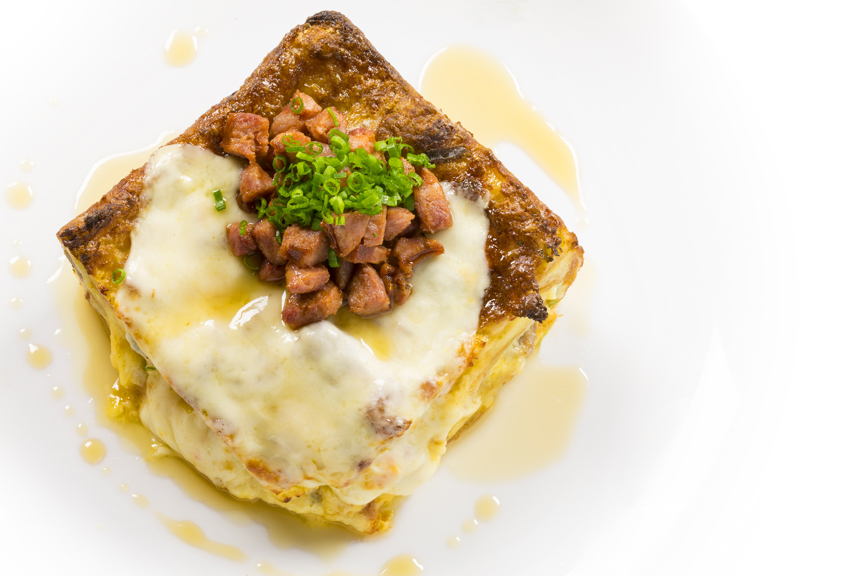 Brunch can satisfy many food cravings and is one of the most versatile meals of the day. Celebrity hef Adrianne has created a recipe for a delectably savory casserole that you can whip up this season.
Her sausage, egg and cheese casserole is topped with maple syrup, which adds a signature sweetness to the buttery spice that lies underneath. The casserole itself contains cheese, sausage, egg, onions, peppers, and, of course, bacon.
RECIPE:
Buttery, Sausage, Egg and Cheese, Casserole + Maple Syrup
Serves: 8-10
INGREDIENTS:
7 croissants, rough chopped
1 tablespoon butter, more for baking dish
1/4 cup green onions, choppef
1 lb andouille sausage, chopped
1/2 cup breakfast sausage, sliced
1/2 cup bacon, crisped, chopped
1/2 cup red bell pepper, finely chopped
1/2 cup yellow onion, finely chopped
8 large eggs
3 cups whole milk
1 cup heavy cream
2 cups pepperjack cheese, grated
Kosher salt and pepper, to taste
1/2 cup maple syrup
DIRECTIONS:
Preheat the oven to 350 degrees F. Heat a large skillet to medium high heat. Add butter and sauté green onion, sausages, and bacon for 3-4 minutes. Add bell peppers and onions. Cook for another 3-4 minutes. Set aside. In a large bowl, whisk together eggs, milk, and heavy cream. Add croissants and sautéed mixture. Add shredded cheese and season to taste with salt and pepper. Grease an 8×8 baking dish and pour mixture into it. Bake for 35-45 minutes. Allow to cool. To serve, drizzle with maple syrup.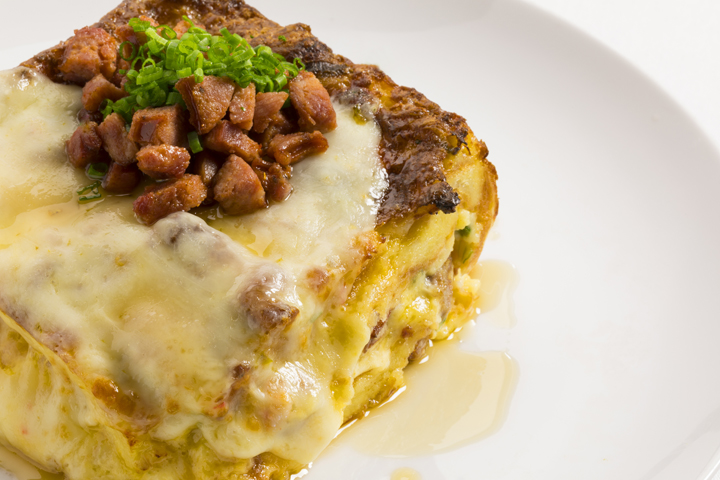 ABOUT CHEF ADRIANNE CALVO: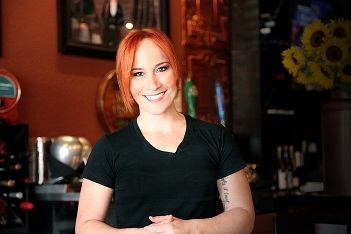 Adrianne Calvo is the Executive Chef and owner of Chef Adrianne's Vineyard Restaurant and Wine Bar, Host of Maximum Flavor Live on NBC's 6 in the Mix, author of four cookbooks: Maximum Flavor (2005); Chef Adrianne: Driven by Flavor Fueled by Fire (2008); #MaximumFlavorSocial (2014); and Play with Fire (2015), and founder of the Make it Count Foundation. Chef Adrianne's Vineyard Restaurant and Wine Bar opened in 2007 and offers a varied and rotating menu with something for everyone. Monthly, the restaurant holds its signature event, Dark Dining, where guests are blindfolded for a sensual
http://www.tastetv.com/theme2/wp-content/uploads/2017/12/Chef-Calvo-Miami-CasseroleIMG_0405.jpg
576
864
TasteTV
http://www.tastetv.com/theme2/wp-content/uploads/2014/06/enfold-logo-test2.jpg
TasteTV
2017-12-21 22:48:47
2017-12-21 22:49:39
Chef Adrianne's Recipe for the Perfect Casserole