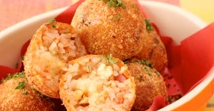 Recipe from California Walnuts:
A reverence for the art of Japanese cooking can make attempting such recipes daunting, but this recipe for Walnut Rice Balls makes it surprisingly approachable.  These warm and sumptuous otsumami (a Japanese drinking snack) are a common after work nibble enjoyed with a beer or glass of sake, but the savory and crisp crowd-pleasers also make for impressive special occasion fare.  They're also a hit with kids and a great use of leftover rice!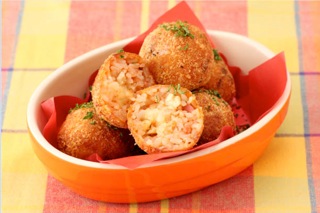 Walnut and Ham Rice Balls
For the rice balls
2 cups cooked white rice, at room temperature
1 1/2 cups (about 1/2 pound) chopped, cooked ham
2/3 cup chopped, toasted California walnuts
1/3 cup panko breadcrumbs
1/4 cup mayonnaise
3 tablespoons ketchup
1 egg
1/2 teaspoon salt, more or less
1/4 teaspoon pepper
For coating and frying
2 eggs
1 tablespoon water
2/3 cup all-purpose flour
1/2 teaspoon salt
1 cup panko breadcrumbs
Vegetable oil for deep frying
2 or 3 tablespoons chopped parsley
To make the rice balls, in a large bowl combine the rice, ham, walnuts, panko, mayonnaise, ketchup and egg.  Beat vigorously to mix,  then season with salt and pepper to taste.  Cover and refrigerate until thoroughly chilled (overnight is okay).  The mixture is easier to shape when it is cold.
Using your hands, press the rice mixture firmly into balls or oblongs, using about 3 tablespoons for each one.  Set aside.  (Refrigerate them if you are not coating them in crumbs right away.)
Coating the rice balls in flour, egg and crumbs needs to be done assembly line-style, as follows:  In a bowl beat together the eggs and water.   Combine the flour and salt on a plate.  Spread the panko breadcrumbs on another plate.
One by one, roll the rice balls in flour to coat, then dip them in the egg mixture.  Finally, roll them in the panko until evenly coated.  If they break, simply press them back together.  Set aside on a clean plate or baking sheet.  The rice balls may be cooked immediately, or covered and refrigerated for several hours or overnight.
When you are ready to fry them, heat about 2 inches of vegetable oil to 350ºF.    Fry about 4 at a time, for 3 – 4 minutes, or until well browned.  Drain briefly on paper towels, then transfer to a platter and sprinkle with parsley.
Makes about 14 – 16 rice balls, serving 4 – 6
Nutrition information per serving: 490 calories, 17g protein, 39g carbohydrates, 2g fiber, 730mg sodium, 120mg cholesterol, 30g total fat, 4.5g saturated fat, 1.5g omega-3
http://www.tastetv.com/theme2/wp-content/uploads/2014/08/Walnut_ham_rice_balls-copy.jpeg
111
214
TasteTV
http://www.tastetv.com/theme2/wp-content/uploads/2014/06/enfold-logo-test2.jpg
TasteTV
2013-10-05 14:25:27
2014-08-11 14:27:52
Walnut and Ham Rice Balls