Parallel 38's Hot Buttered Rum Is Sugar and Spice and Everything Nice
The fall weather is rolling in, which means it's time to swap out those refreshingly fruity cocktails for something warm and comforting! For the second season in a row, Charlottesville, VA restaurant Parallel 38 is serving up an extra decadent Hot Buttered Rum that guests have been dreaming about ever since they first sampled their first sip last year.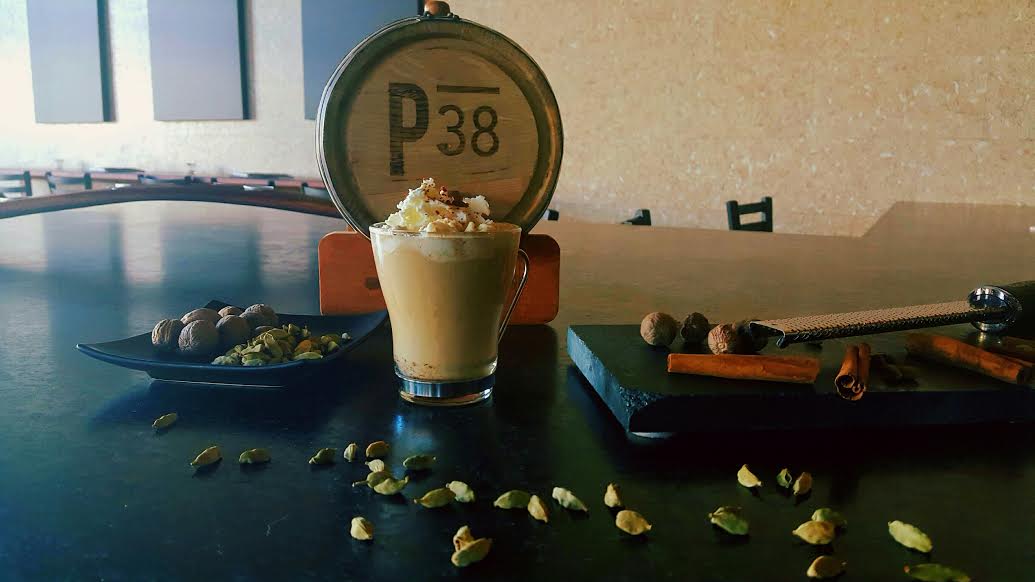 Created by chef/owner Justin Ross, the creamy concoction is bursting with the flavors of fall including notes of cinnamon, nutmeg, ginger and allspice. With ingredients like vanilla ice cream, brown sugar and butter, this is the perfect finish to a savory meal at the small plates eatery (many guests opt for the Hot Buttered Rum in lieu of a dessert course.)
Hot Buttered Rum
Ingredients:
1 Teaspoon Ground Ginger
1 Teaspoon Ground Cayenne
2 Tablespoons Allspice Berries
1 Quart Vanilla Ice Cream (Softened)
3⁄4 Cup Confectioner's Sugar
3⁄4 Cup Brown Sugar (firmly packed)
1 Pound Unsalted Butter (cut into small pieces; 8 – 10)
Dark Rum
Boiling Water
Directions for Butter Batter:
Crush nutmeg pods with a towel and mallet. Place crushed nutmeg, allspice and cinnamon into a spice grinder and grind into a coarse powder. Heat a sauté pan over medium heat and evenly distribute the coarse spice mixture, tossing for 20 seconds or until smoke appears. Remove from heat and continue to toss to cool. Repeat this process 3 times. Add heavy cream, ice cream, ginger and cayenne to the toasted spice pan. Bring the mixture to a boil then stir in the sugar and salt. Reduce heat to medium-low and immediately stir in the butter cubes 2 to 3 at a time. Wait to add next round of butter until previous batch has dissolved. When the butter has all dissolved remove the mixture from the heat. If you are going to use all the batter now; the batter is ready to use. If you want to save some of the batter for later use, place the batter in a bowl and set over a larger bowl of ice and stir occasionally until the batter reaches room temperature. Place in the refrigerator for up to a week.
Directions for the Cocktail:
In a mug combine 2 oz. of dark rum, the Butter Batter and boiling water. Stir and serve immediately with a spoon.
NOTE: P38's Hot Buttered Rum can be frozen and served at a later date.
Once the batter reaches room temperature, pour the batter into silicone ice cube trays or measure out 3-ounce quantities & store in individual freezer bags. To serve, place 3 batter cubes or 3 ounces of batter with an equal amount of water in a saucepan over medium high heat. When the mixture boils, pour in into a coffee mug, add the rum and stir.
About Parallel 38: Located at 2055 Bond St. in Charlottesville, VA Parallel 38 (P38) is a Mediterranean style restaurant whose menu is inspired by the world's most iconic food and wine regions (Alicante in Spain, Italy's Calabria, the Greek Ionian Islands, Napa Valley and Charlottesville) – all of which sit along the 38th parallel. The eatery offers a contemporary and casual environment that encourages guests to explore the unique flavors found within these temperate regions. The restaurant's interior features a large soapstone bar, a sweeping chalkboard mural and artist-design light scheme. A cozy lounge area with reclaimed factory cart seating is ideal for enjoying a cocktail with friends while a custom 12-food walnut table is perfect for dining with a large group. The menu, which changes seasonally, consists of small plates that are ideal for sharing, www.p38cville.com
http://www.tastetv.com/theme2/wp-content/uploads/2015/11/Hot-Buttered-Rum.jpg
582
1035
TasteTV
http://www.tastetv.com/theme2/wp-content/uploads/2014/06/enfold-logo-test2.jpg
TasteTV
2015-11-16 18:35:21
2015-11-16 18:35:21
Pumpkin-Spiced Hot Buttered Rum