Italian Nocciolata keeps organic
"

Amore

"

in its Artisanal Chocolate Hazelnut Spread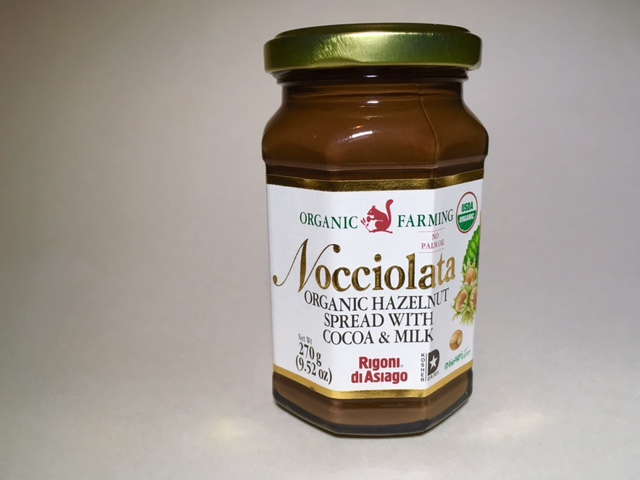 ---
There's been a lot of talk about the Great Hazelnut Shortage and how this could affect supplies of Nutella. But Italian-based Rigoni di Asiago from Altopiano di Asiago doesn't seem to mind. They have a hazelnut spread of their own to meet the need, and it's called "Nocciolata."
We tried it, and we loved it. Smooth, creamy, and delicious, it inspired us to go to the source to find out more.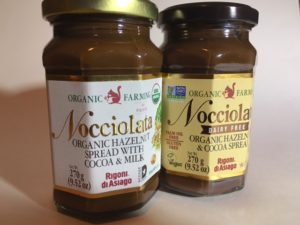 TasteTV: Does Nocciolata have a translation in Italy?
RdA: The name Nocciolata comes from the Italian word "nocciola" which means "hazelnut."
TasteTV: How did Rigoni di Asiago start making this product?
RdA: The Rigoni family resides in the Altopiano di Asiago, a mountain plateau in Northern Italy (90 miles north of Venice), where they keep the traditions of honey and fruit spread production alive. Nonna ("Grandmother") Elisa started beekeeping in the 1920s, as well as fruit spreads and hazelnut chocolate spreads.
Raw, organic honey is what started the family business in the first place. It is called Mielbio and is collected from Italian beehives and cold-processed using a method where antioxidant and antibiotic properties are preserved.The Rigoni's later perfected a recipe for Nocciolata.
TasteTV: Where do you get your hazelnuts?
RdA: Our hazelnuts are the best organic variety available – mostly Tonda Romana variety.
TasteTV: Where does your chocolate come from?
RdA: Our cocoa and cocoa butter are Fair Trade and come from the Caribbean. (Nederland Antilles)
TasteTV: Nutella seems to own the entire market for this type of product. How is Nocciolata challenging this perception?
RdA: There is a growing demand for products that are both better for you and made responsibly. Each batch of Rigoni di Asiago's chocolate hazelnut spread combines top-quality hazelnuts, cocoa and cocoa butter, environmentally-responsible cold-pressed sunflower oil, natural vanilla extract, raw cane sugar, and skimmed milk. Unlike other chocolate-hazelnut spreads, Nocciolata contains no palm oil (which is high in saturated fat and whose cultivation devastates the environment), hydrogenated fats, artificial colors, aromas or additives. Most recently, they have also developed Nocciolata Dairy Free, a certified vegan version of the original perfect for those who follow a vegan lifestyle or are lactose intolerant.
TasteTV: In your opinion, is Nocciolata a spread, an ingredient or a dessert?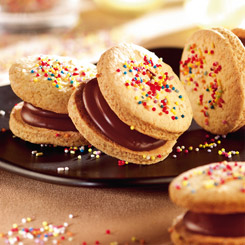 RdA: All of the above! Nocciolata is incredibly versatile. Many people enjoy it spread on breads and pastries (like croissant), others eat it with fruit – it is exceptional with strawberries. Still others stir it into their coffee or use it to make hot chocolate. Lots of customers tell us that they use it in baking, while some fans just eat it straight out of the jar with a spoon!
TasteTV: Nocciolata seems to be much creamier than other products like this. How do you explain the difference?
RdA: Each batch takes 36 hours of artisanal preparation to develop its rich and complex flavor and easy-to-spread consistency. And we use no hydrogenated fats.
TasteTV: What is your favorite recipe incuding Nocciolata?
RdA: We love Nocciolata spread on a croissant. Simple and delicious!
TasteTV: We agree!