A lot of kids and many adults have food allergies, and that makes picking the right snack a chore.
Homefree mini-cookies are delicious snacks that also happen to be healthy. They have won numerous awards in the Healthy Gourmet Snack Awards presented by Taste TV, including Four stars for "Healthiness", and they deserve them.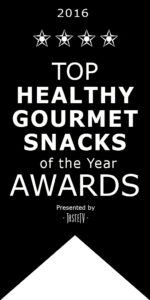 What makes them healthier than your normal cookies are that they are gluten-free, non-GMO, egg free, dairy free, not free, peanut free, no soy, no rice, vegan, kosher, and whole-grain. In addition, as far as we can tell the mini-cookie size allows for some measure of portion control.
The Homefree cookies come in a variety of flavors such as vanilla, chocolate meant, double chocolate, lemon, ginger snap, and more.
As one of the award judges mentioned, "These are excellent gluten-free products but have no funny aftertaste."
We also gave some to a preschool to taste, and the teachers told us that the kids liked them a lot, but the staff loved them even more.