Cars You Want: The Lotus Exige Cup 380
You want it. Let's be honest.
The Lotus Exige Cup 380 is on your bucket list… or maybe next week's shopping list.
The ballistic new Exige Cup 380 coupe provides the perfect balance between fully type approved road car and genuine race car to deliver the ultimate track-and-back street-legal Lotus.
Evolved from the hugely successful and capable Exige Sport 380, this latest Lotus supercar is the purest manifestation yet of the company's Cup concept for sports cars. Genuinely eligible for competition yet undeniably elegant, just 60 editions of this extreme Exige are planned for worldwide markets – assuring its status as one of Lotus' most collectable road cars.
With a purity of drive unheard of in road cars, and a power-to-weight ratio of 355 hp per tonne, the Exige Cup 380 delivers genuine race pace, with 0-60 mph in 3.4 seconds (0-100 km/h in 3.6 seconds) and top speed of 175 mph (282 km/h).
Jean-Marc Gales, CEO, Group Lotus plc said, "Developing the Cup 380 has allowed us to indulge our motorsport ambitions on a car that can be used and enjoyed every single day. This is an Exige that's not just unbeatable point-to-point but also capable of winning highly competitive races. The biggest surprise for many is that it's fully road legal – a considerable achievement considering the car's performance capabilities. Unlike some rivals' cars, this is something that really can drive to a track, set the fastest lap and take the win, before heading home. It's supremely usable, yet outrageously fast."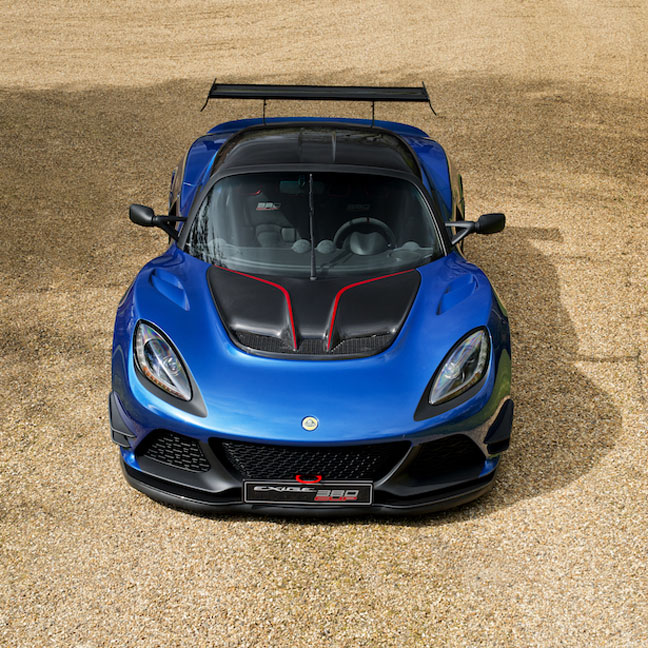 About the Exige Cup 380
At the heart of the new Exige Cup 380 lies a concept from the core of one of Lotus' founding principles. With an unrivaled lineage, the new thoroughbred Lotus Exige Cup 380 is endowed with race car sensibilities and road car manners.
An integral part of the car's aerodynamic prowess, the high-gloss, hand-made carbon fibre components include new front splitter, front access panel, bargeboards, roof, diffuser surround, new larger aperture air-intake side pods, a new one-piece tailgate and a straight-cut high efficiency motorsport derived rear wing. ​
The new design one-piece carbon rear tailgate reduces weight by 6.5 kg and the removal of gas struts deletes 1 kg. The new carbon side pods save a further 0.5 kg.
Inside the Exige Cup 380, the carbon continues with visible-weave, handmade sections including beautifully detailed carbon race seats and door sills as standard.
Extremely quick off the line, the Exige Cup 380 laps the Hethel track in 1 minute 26 seconds – a record for a road-legal Exige. Packing the same 3.5-litre supercharged V6 engine as the Exige Race 380, the new Exige Cup 380 boasts 375 hp at 6,700 rpm and 410 Nm (302 lbft) of torque at 5,000 rpm.
The Exige Cup 380 is available as a limited production run of only 60 cars and as a coupe only. It can be ordered now, priced £83,000 including VAT (UK) and €109,900 (Germany).
FOR MORE INFORMATION VISIT
https://www.facebook.com/LotusCars
https://twitter.com/grouplotusplc
https://www.instagram.com/grouplotusplc/
https://www.youtube.com/grouplotus