Cirrus Aircraft makes Your Own Personal Private Jet more Possible
If you just have $2 Million to spend, forget about getting your dream car. Think Bigger. Cirrus Aircraft has a new 6-seater personal jet that should take your 'bucket list' to an entirely new level…into the stratosphere.
Cirrus Aircraft  has recently introduced the Vision Jet – the world's first single engine Personal Jet.
The outside of the jet is recognizable on the tarmac from all others on the runway. The forked tail alone is enough to catch glances. Not to mention, the sexy and powerful single jet engine mounted on top of the fuselage.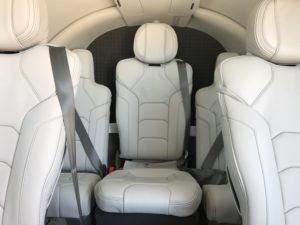 The interior looks less like a plane and more like a luxury sedan.  The seats are leather, as are some of the controls, and control dials don't look much different than what you would see driving on the road. If of course what you drove on the road could get you 1200 miles per tank.
Another benefit it that with this private jet you don't need a private pilot. If you are qualified, you can flight it yourself. No need to pre-schedule. No time-shares on planes. No major airports required.
A lot of what is at the pilot's seat is extremely user friendly, thanks to Garmin avionics major role in the plane's cockpit design. That design includes touchpad controls in some key areas.
The Vision Jet is the realization of a vision to re-imagine and reinvent the jet airplane in order to create a whole new category of aircraft —The Personal Jet. Simpler to fly and easier to operate and own, the Vision Jet is truly a revolution in personal transportation and the ONLY single-jet aircraft on the market. At a price point just under $2 million, and equipped with Cirrus' exclusive Cirrus Aircraft Parachute System (CAPS) (which set the aviation standard in aircraft safety) there's nothing like it available anywhere in the world.