Nu Som's Photography Book NUDESCAPES Travels the Naked World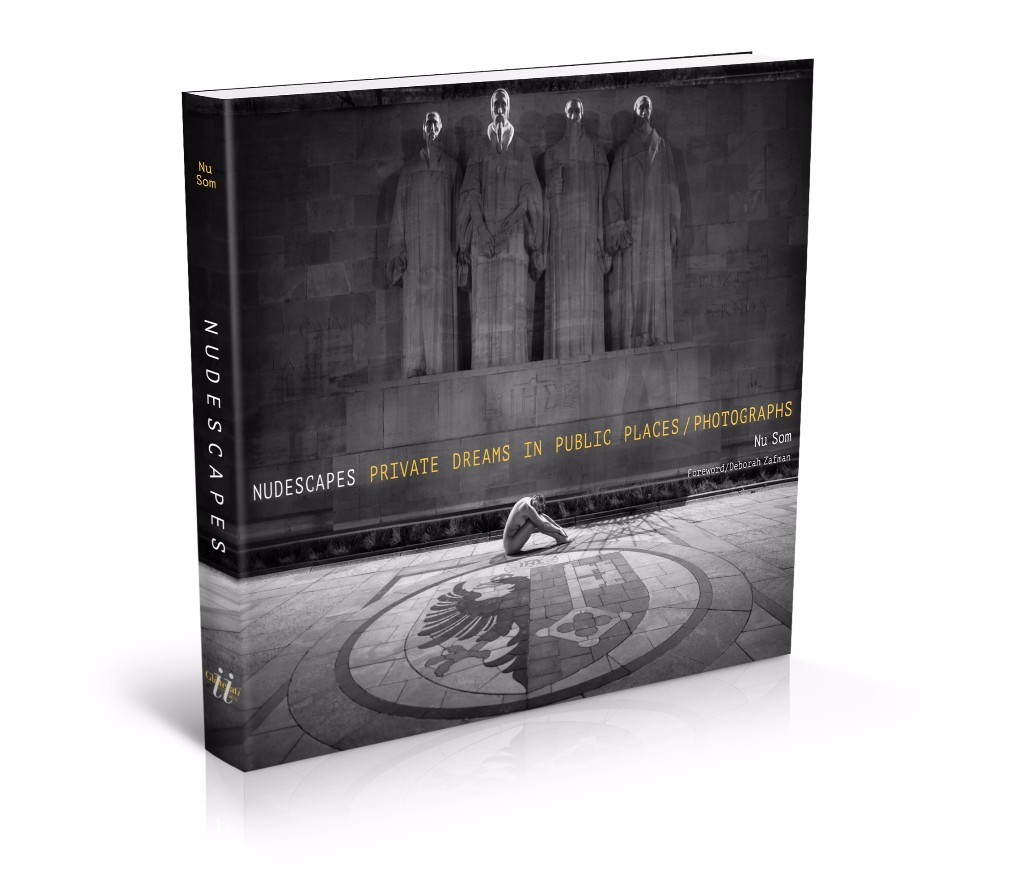 Is this photographic art, performance art, political art, or just thrill seeking?
Those are many of the questions a viewer might ask when seeing images of a person posed naked outside in various locales across the world. However Nu Som makes it quite clear, it could be all of the above, and that's what makes her new book of photography, NUDESCAPES, even more interesting.
Nu Som has authored and starred in a debut that resists further categorization. NUDESCAPES, a compilation of the artist's most iconic images from her ongoing project by the same name, will enthrall those curious about the exploration and gratification of artistic misconduct, used to explore the distinction between what is private versus what is public.
Fortunately, we had a chance to speak with her about this fascinating new volume.
This is very interesting for photography book. What inspired it?
I had never before thought of shooting self portraits, to me, master Cindy Sherman and a few others had explored every artistic possibilities and the only alternative was self-centered iPhone selfies that were already flooding social media, something I had no interest in participating in.
But one morning, the light coming into my bedroom window was so beautiful, I had to capture it. I was alone, I grabbed my tripod, set the timer and slipped into the frame for the exact result I envisioned; it was an epiphany, I could use my own body to be the human subject in any scene. I started exploring with different light sources, compositions and situations and when I entered a public place, where people normally roamed and could appear at any point, the thrill of it took over. I was terrified and therefore exhilarated once I got the shot, it was such an adrenaline rush, I was hooked! I shot as much as I could and after a while started showing friends, wanting to share the peaceful beauty of the settings in contrast to the excitement of the process. Every one I showed it to said "this should be a book" and so 7 years after the 1st image was created, voila!
So you traveled around the world, how did you select locations?
I travel a lot to begin with and so I started shooting where ever I was for one reason or another but then as the project grew, I took trips just for the project. I knew Venice was going to be a great place to explore and capture at night, the fact that there are no cars in the streets gives any scene a timelessness that is very hard to capture in other cities. Arizona, Utah & the California/Oregon coast were "must have" landscapes, they are still very raw when compared with the nature that I grew up with in France where the evidence of human intervention is never very far. Finally I had to go to the Sahara desert, It held a special meaning for me personally and as an artist, but what I found there was overwhelming, I was visiting in mother nature's workshop and once I got over the jitters, the collaboration was magical.
Was there an issue of privacy when you were photographing yourself nude? Weren't in some locations spectators, or did you wait until no one was around?
Yes that was the biggest challenge in capturing the photographs, I had to wait for the moment when no one was around, and sometimes come back for it over and over before getting just the right shot.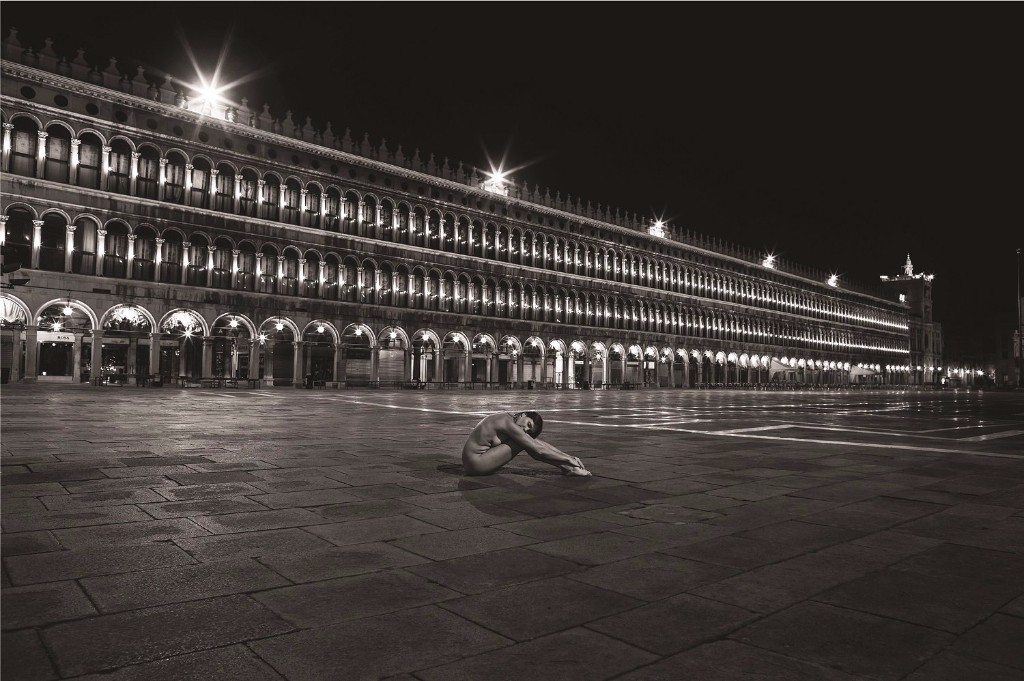 Obviously there was also an issue of lighting. Did you use flash or a actual lighting set up?
I used available light 99 percent of the time. Mostly street lights in cities and daylight or moonlight in nature, it's important to look at the time that the photographs are taken so you may know what actual light was used; moonlight can almost pass for daylight at times. In a few shots, under the Beverly Hills Hotel sign, on the PCH, and in a couple of the Arizona desert shots I supplemented the light with my car headlights, but overall it was always whatever I found there.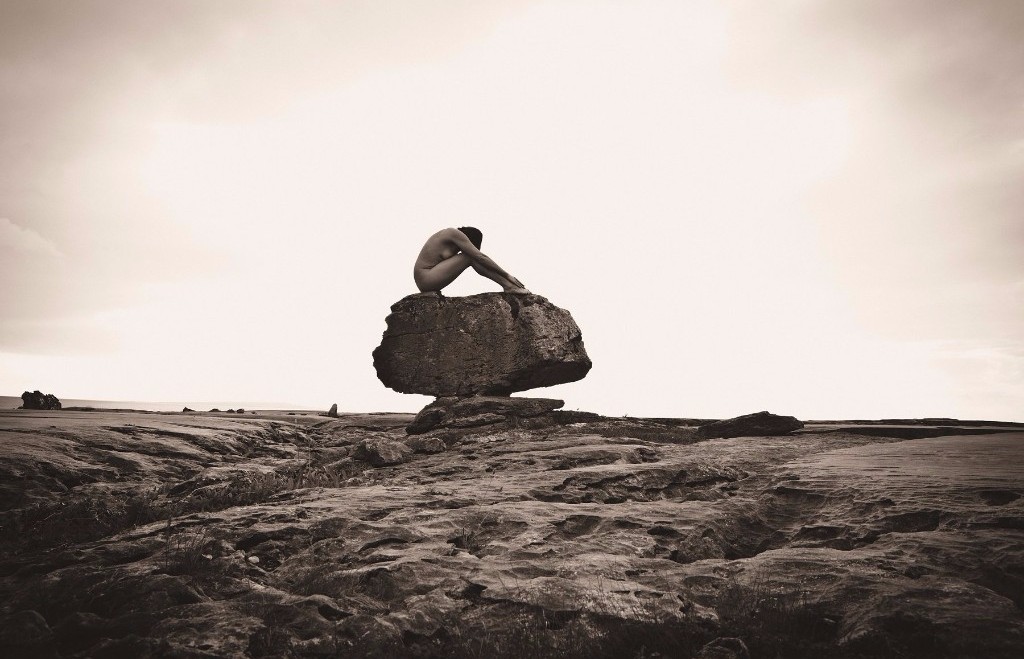 In general you stick to a few thematic poses throughout the book. Can you tell us what they represent, and why?
I have favored the fetal position because in most photographs, I like my body to represent humans in general and I found that when I opened up, the feminine aspect of the body instantly took over, sexualizing the message and therefore sometimes distracting from the universality of the scene.
What made you decide to publish a book based on your current exhibition?
With the ever dwindling privacy offered in our society, I thought it was time for people to be reminded of it's importance. I also tackle the woman condition and that, in view of the last presidential campaign, has also become a crucial "remind and reset" issue I wanted to address. I grew up thinking women's rights had been won in our western societies, but last year reminded us all that a lot of work is still ahead.
Was the book publication process complicated, or did it move fairly quickly?
This is my first publication, so I don't have a lot to compare it with, but from the first meeting with Marta at Glitterati to the book being in the hands of buyers, it will have been 1 full year. It may seem long but I think it was quite swift as production itself can be quite a lengthy process. Of course, a majority of the images had already been shot when we first met, the difficult part was finding the publisher that "got" the project and wanted to take a chance on a new author. That took much longer, and like everyone else, I had rejections and people who helped me, in the end once the right connection was made it all starting falling perfectly into place.
What are your ultimate hopes for this book and the work?
I hope that a lot of people will see it and realize that if you are afraid to do something you should do it. And that once you do, you will come out stronger for it on the other side. I also hope it will highlight why we need to keep some privacy in our lives and should stop sharing every moment, every meal, every meeting with the rest of our virtual friends. Start living for living again, not just sharing. These experiences can only happen if I keep to myself and find a moment alone. Privacy has become a precious commodity.
Finally, I hope it helps people see even more beauty in the world around them and make them care for it as much as they possibly can.
Which is your favorite image?
That is a very difficult question, like asking your favorite song or child… But if I had to chose, I would go with the sepia toned photo on the dune where my shadow looks like a cat, it was the most beautiful "accident" ever, a true gift from mother nature, I believe.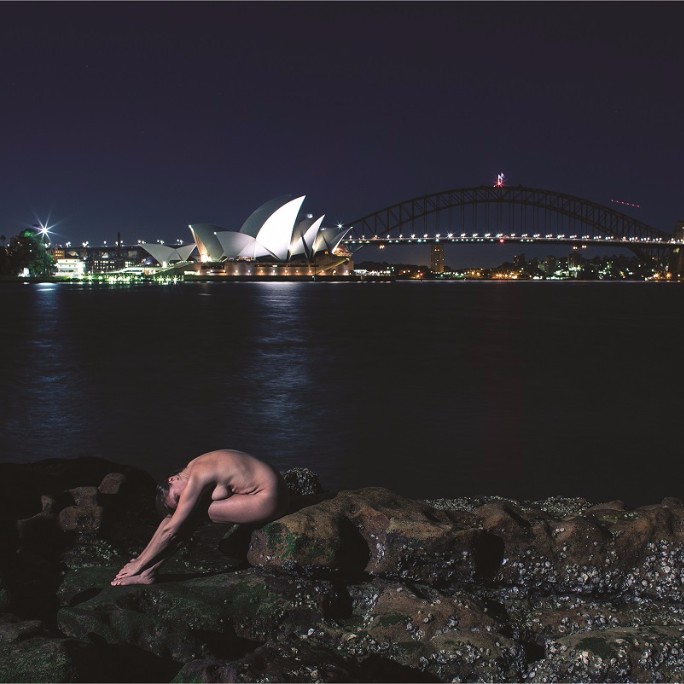 You are a French citizen. In France, did people ever think your name in French was actually Nous Sommes (We Are)?
Yes, Nu Som is not my real name, it is my nom de plume (as we French people say) I chose it because it sounds like "Nous Sommes" and as I wanted for my body to represent the human race in the photographs, it seemed fitting. It also happens to mean "Now This" in Swedish. I felt I needed a pseudonym for its public release because I have to retain some privacy if I want to keep shooting for this project.
What's next for Nu Som?
Well, as I mentioned above, I am still shooting my nudes everywhere I go, I'm totally hooked with the experience of it and the world still has many treasures for me to uncover. So a book 2 is definitely not out of the question. But I have other projects I am also working on, so we'll see, the next thing to come out may be quite different, but it still is too early to talk about…
About the author:
Nu Som was born in France and raised between Le Havre, Paris, Lyon, and Aix en Provence. She has lived and worked in New York City since 1995. She has worked as an actress on stage and screen, eventually migrating behind the camera. Primarily self-taught, she has created a successful commercial career in print, and is known in the music world as an exclusive and respected New York City portrait artist. Her work has been featured in numerous publications, including covers and features in Bass Player Magazine and Jazz Life & Glamour. Nu Som currently resides in New York City.
About the foreword writer:
Deborah Zafman received her doctorate in the History of Art from UC Berkeley where she was awarded the McEnery Fellowship for innovation in teaching. Previously, she studied art history abroad in Florence, Berlin and Paris and is fluent in six languages. While in Paris, she ran a thriving contemporary art gallery before returning to the United States to become a certified member of the Appraisers Association of America. She has published art reviews for Art Press and essays in numbers exhibition catalogs. She currently lives and works in New York City.
Copyright TCB CAFE Publishing & Media LLC All Rights Reserved
NEW IDEAS FOR A NEW WORLD