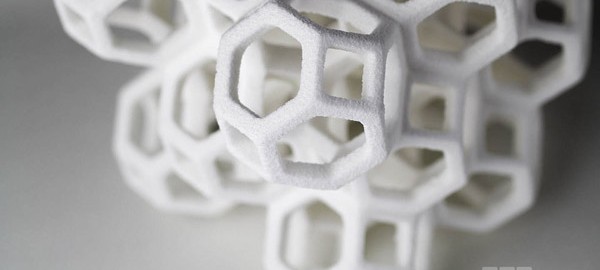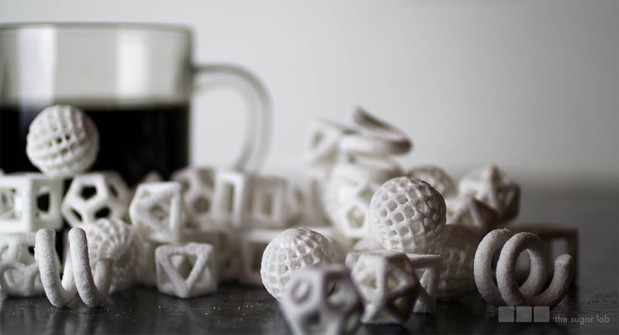 INNOVATOR PROFILE: The Sugar Lab
Milestone
Winner of the 2014 Innovation Award by the TASTE AWARDS. Acquisition by 3D Systems. Press coverage in major media, as well as launch of Los Angeles studio space.
Founders or Inventors
Liz and Kyle von Hasseln, co-founders of The Sugar Lab.
Their background
Kyle and Liz both have backgrounds in molecular biology, but about 5 years ago they decided to transition to architecture, and graduated from SCI_arc with Masters of Architecture. SCI_arc makes it a point to embrace emerging technologies as design tools, and that institutional stance meant that they were exposed to a lot of cool technology during their time there, and were encouraged to use it in novel ways. Throughout graduate school both Kyle and Liz were fascinated by free form fabrication in general, and unorthodox 3D printing configurations and materials in particular. Their graduate thesis, although it had nothing to do with sugar, centered on the development of a novel fabrication system. Their shared curiosity for the range and utility of 3D printing definitely contributed to an interest in applying the technology to the genre of food.
Concept & Innovation
The Sugar Lab is a micro-design firm for 3D printed sugar. 3D printing transforms sugar into a structural, sculptural element that can interact with food on different terms. 3D printed sugar can be used to sweeten or to ornament, but it can also start to define the form of the food instead of the other way around, or even to support it structurally. For example, Kyle and Liz are very excited to be working right now with several talented cake artists at a well-known bakery in Hollywood. The goal is to design a four-tiered wedding cake with a 3D printed sugar cake-stand, plus 3D printed sugar-tiers supporting cake tiers. It will be a traditional cake silhouette in which sugar plays anything but a traditional role.
That's an exciting part of 3D printing sugar — transforming sugar into a structural, sculptural medium that can start to define the form of the food instead of the other way around, and even to support it structurally.
Inspiration
It started about two years ago, when they were graduate students in architecture. Kyle and Liz were living in a tiny apartment in Echo Park (Los Angeles) with a correspondingly tiny outdoor kitchen. They didn't have an oven, and when they realized that meant they couldn't bake their friend Chelsea a cake for her birthday, it was decided to try to 3D print one instead. Eventually Kyle and Liz managed to print a simple cupcake topper that spelled out 'Chelsea' in cursive sugar. Chelsea loved it! After they graduated, they optimized the printing process and started The Sugar Lab.
Company URL http://www.the-sugar-lab.com/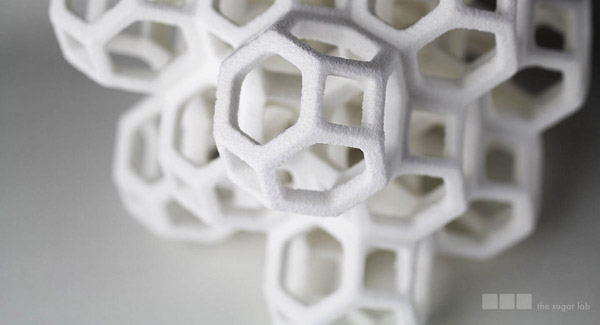 http://www.tastetv.com/theme2/wp-content/uploads/2014/07/SugarLab02.jpg
325
600
TasteTV
http://www.tastetv.com/theme2/wp-content/uploads/2014/06/enfold-logo-test2.jpg
TasteTV
2014-07-30 15:39:40
2014-07-30 17:38:04
The Sugar Lab's 3D Sugar Printing System