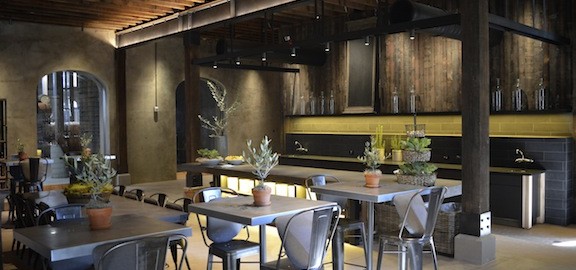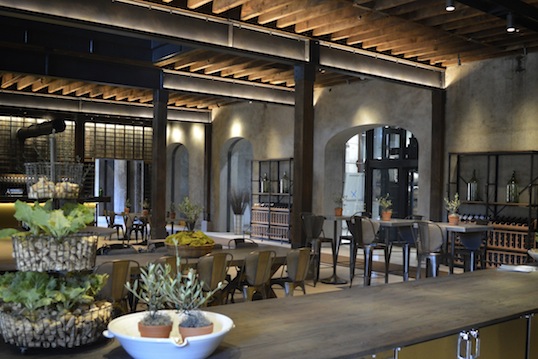 Napa Valley continues to innovate and delight with new openings and offerings. Peter Mondavi Jr. and Napa Valley celebrity chef, Richard Haake, join TasteTV in discussing the Mondavi Family's newest venture, Cucina di Rosa Italian trattoria.
Opened as part of the Charles Krug Winery Hospitality Center, the Cucina di Rosa's realization was the final element of a $9.5 million restoration and beautification of the Redwood Cellar Building designed by noted architect Howard Backen. The Cucina menu  was designed by Haake, and offers a variety of rustic panini sandwiches, antipasti, salads as well as traditional Italian snack items designed to pair beautifully with Charles Krug's estate wines.
Named in honor of the winery's matriarch Rosa Mondavi, and launched to commemorate the 100th birthday of her son, Peter, the Cucina brings the renovation of the historic winery and property full circle.
TasteTV: The Mondavi family has a history of winemaking for several generations. How does everyone keep track of the various ventures and brands? (like Krug)
Peter Mondavi Jr: "Wine is our passion and we enjoy being directly involved in all of our brands and ventures. As a family, we've been involved in wine over the past 70 years. Charles Krug, like our other brands, is built on a foundation of family values, hard work and European winemaking tradition."
TasteTV: Why did you decide to open the Trattoria at the Charles Krug Winery Hospitality Center?
Peter Mondavi Jr: "Cucina di Rosa is an extension of our family heritage and our winemaking philosophy that wine and food are inseparable. My grandmother Rosa Mondavi loved cooking and taking care of people so the Cucina pays homage to her."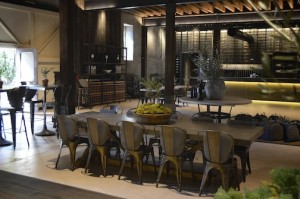 TasteTV: How many visitors do you expect to start enjoying the Cucina?
Peter Mondavi Jr: "We hope the Cucina will draw many new visitors to our stunning, newly renovated Redwood Cellar designed by architect Howard Backen. We don't know of another winery that offers this kind of culinary experience directly in the Tasting Room. Guests can enjoy a flight of Charles Krug limited-release wines at our Tasting Bar, followed by delicious rustic panini, antipasti or salad designed to pair beautifully with Charles Krug's estate wines." 
TasteTV: Most restaurants in wine country are sourced locally. Tell us, are the menu and ingredients influenced by local California cuisine, or is it more influenced by Italian restaurants?
Chef Richard Haake: "Simply put, the menu and ingredients are influenced by the CIA (Culinary Institute of America) Garden planted on the Charles Krug estate and the Italian traditions established by Rosa Mondavi who also tended a significant garden on the estate." 
TasteTV: What are some of your favorite dishes at the Trattoria?
Peter Mondavi Jr: "I love the panini and am enjoying working my way through the vast selection, paired with Charles Krug wines, and topped off with a freshly roasted espresso."
TasteTV: Any suggested food & wine pairings at the Trattoria? 
Chef Richard Haake: "The Giardino Panino, which combines grilled and marinated estate-grown vegetables from the CIA Garden with Meyer lemon and herb goat cheese, pairs perfectly with the Charles Krug Sauvignon Blanc. The brightness of the goat cheese brings out the wine's citrus and tropical flavors. Another great pairing is the Toscano Panino paired with Charles Krug Cabernet Sauvignon. The combination of roasted top sirloin steak, balsamic onions and Cambozola blue cheese are the perfect complement to Charles Krug's rich, layered Cabernet."
TasteTV: You are initially only open on weekends. Is this the plan going forward?
Chef Richard Haake: "We would like to be open on additional days, but we're starting with Fridays and weekends until we get the word out and build a following. We encourage everyone to come and visit us and look forward to extending our hours as soon as possible."
TasteTV: Several tasting rooms have opened over the last few years in the Sonoma Plaza square. Do you think that this represents a trend for having in-town tasting rooms, and not just tasting rooms at wineries? 
Peter Mondavi Jr:  "I believe the best way to experience wine country is by visiting a winery. Charles Krug is the oldest winery in Napa Valley, and there is no better way to experience the history and beauty of this region than by spending time at a winery such as ours. It's truly the ultimate wine country experience."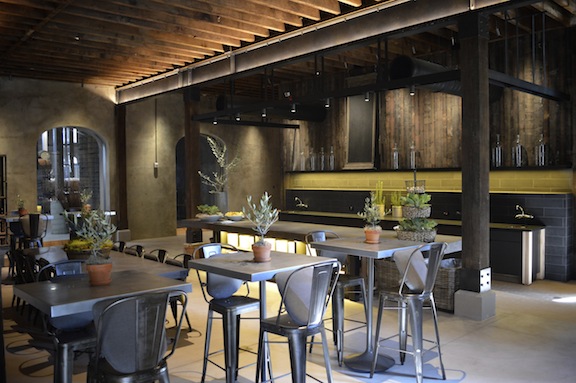 http://www.tastetv.com/theme2/wp-content/uploads/2014/09/Hospitality-2013_04.jpg
383
576
LaGrange Point
http://www.tastetv.com/theme2/wp-content/uploads/2014/06/enfold-logo-test2.jpg
LaGrange Point
2014-09-05 16:47:41
2014-09-05 16:47:41
Peter Mondavi chats about Napa favorite Krug Winery opening Trattoria Cucina di Rosa