Follow this guide and discover the cosmopolitan San Francisco Bay Area through its unique neighborhood cafés. Contains over 300 photographs and 48 in-depth profiles, plus café stories, thoughts, and recipes from café lovers including former Mayor Willie L. Brown Jr., Filmmaker Francis Ford Coppola, TV Chef Joey Altman, Spencer Christian, Beat poet ruth weiss, Comedian Will Durst, Caffe Proust, The Republic of Tea, and more…
Organized by neighborhood, the book offers a tour of San Francisco's unique charms and its vibrant and exciting cafe and coffeehouse scene. Café culture has long played an integral role in San Francisco's history and cosmopolitan lifestyle.
This delightful guidebook leads travelers and residents alike on a deliciously caffeinated tour of dozens of the best cafés in the city's varied neighborhoods and its surrounding towns. Each listing includes a brief, pithy write-up, giving readers a taste of each spot's unique ambience. Most entries are illustrated with black-and-white photographs that capture the feel and atmosphere of the café.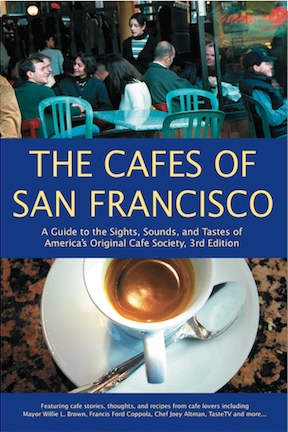 A delicious new book, packed full of lots of information and lots of photos. — Narsai David, KCBS Radio Food & Wine Editor
Celebrates these treasures in living color … and enlisted the aid of some big names in putting together this pretty book." — Debby Morse, San Francisco Examiner
FOUR AND A HALF STARS! The book makes me want to go out and explore — Martha Bakerjian, About.com / Sanfrancisco.about.com