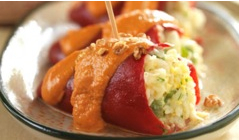 Recipe from California Walnuts:
Spain is known for its delicious finger food or pintxos featuring the likes of cheeses, seafood, ham and nuts – making it a rich resource for inspiration.  Their Peppers Stuffed with Romesco Cod with Walnuts are a gussied up version of a classic, and a great way to work in veggies during the days of indulgence.  This nutritious, full-flavored mouthful adds zest to any spread, and it's surprisingly straightforward to make.  A bonus: the walnut romesco sauce can be made on its own and used in a variety of other formats, like as a dip or served with a lean protein as an entrée.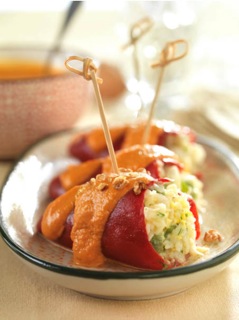 Cod-Stuffed Pequillo Peppers with Romesco Sauce
All elements of this colorful, flavorful dish may be prepared ahead of time.  And since the stuffed peppers are served at room temperature, they are perfect for a picnic, luncheon or buffet, with crusty bread to go along.  Romesco is a frequent condiment in Spanish cookery, and there are many ways of making this pungent sauce.  Among the key elements are its red color, and a smoky flavor achieved by the addition of paprika, along with roasted tomatoes, onions and walnuts.
1 pound salted cod fillets, soaked and desalted (see Notes below)
2 tablespoons olive oil
1 green bell pepper, halved, seeded and sliced
1 onion, sliced
2 cloves garlic, peeled and chopped
2 hard boiled eggs, peeled and chopped
1/3 cup chopped parsley
1/2 teaspoon salt, plus more if needed
1/2 teaspoon pepper, plus more if needed
18 – 20 whole, roasted and peeled piquillo peppers (see Notes below)
Walnut romesco sauce (recipe follows)
*Notes:   Dried cod, preserved in salt, is available in many well-stocked supermarkets and fish markets, packed in 1-pound wooden boxes.  It must be soaked in several changes of cold water to soften, desalt and revive it.  Small fillets (like those in the boxes), need about 24 hours of soaking in the refrigerator and 3 changes of water.  After soaking, it looks and feels like fresh fish, and is just as perishable, so use it within one day or freeze it.
Whole roasted pequillo peppers, imported from Spain are sold in jars in specialty markets.  They are about the size of a large jalapeno pepper, and their cone shape makes them perfect for stuffing.  If they are not available, any whole roasted and peeled pepper, with a mild flavor, may be substituted—though if the peppers are large, you will yield fewer of them, with more stuffing.
To prepare the stuffing, place the soaked and desalted cod in a saucepan and add enough water to cover.  Bring just to a simmer and cook gently, without boiling, for about 10 minutes.  Drain well, and when the fish is cool enough to handle, either shred it with two forks or chop it coarsely with a knife.  Set aside.
Heat the olive oil in a large skillet over medium-high heat.  Add the green pepper, onion and garlic and cook, stirring frequently, for about 7 minutes, until soft.  Reduce the heat to medium, add the cod, and cook for about 5 minutes, stirring frequently. Remove from heat and add the eggs and 3 tablespoons of the parsley.  Season with salt and pepper, keeping in mind the mixture should be quite flavorful.
Stuff each pequillo pepper with 3 – 4 tablespoons of the cod mixture.  Arrange on a platter, spoon some of the romesco sauce over the peppers and sprinkle with the remaining parsley.  Pass the remaining sauce at the table.
For the walnut romesco sauce
2 tablespoons olive oil
1 large clove garlic, peeled and cut in 3 pieces
1 large or 2 small tomatoes, cut in chunks
1 onion, peeled and cut in 1/2-inch chunks
1/2 cup chopped, toasted California Walnuts
1/2 cup olive oil
1/4 cup sherry vinegar or white wine vinegar
3 tablespoons diced pimientos (available in supermarkets, in small jars)
1 1/2 teaspoons paprika
Salt and pepper
Preheat the oven to 400ºF.
Heat the olive oil in a small skillet or saucepan over moderate heat.  Add the garlic and stir occasionally until it has browned lightly, 3 – 4 minutes.  Remove from heat, cover the pan and let cool.  Remove the garlic from the oil and set it aside.  Pour the oil into a baking pan.   Spread the tomatoes and onions over the oil then toss to coat.   Bake for 45  minutes, stirring twice.  Cool to room temperature.
Transfer the roasted tomato-onion mixture to a food processor.  Add the reserved browned garlic clove, the walnuts, olive oil, vinegar, pimientos and paprika, and process until smooth.  Season with salt and pepper to taste, keeping in mind the sauce should have some kick to it.
You will have about 2 cups of romesco. Transfer it to a jar, cover and refrigerate until serving.
Makes 18 – 20 stuffed peppers, serving 6 or more
Nutrition information per serving: 360 calories, 18g protein, 13g carbohydrates, 2g fiber, 580mg sodium, 105mg cholesterol, 26g total fat, 4g saturated fat, 1g omega-3
http://www.tastetv.com/theme2/wp-content/uploads/2014/08/Walnut-Cod_stuffed_Pequillo-copy.jpg
140
239
TasteTV
http://www.tastetv.com/theme2/wp-content/uploads/2014/06/enfold-logo-test2.jpg
TasteTV
2013-10-01 14:24:36
2014-08-11 14:25:14
Cod-Stuffed Pequillo Peppers with Romesco Sauce